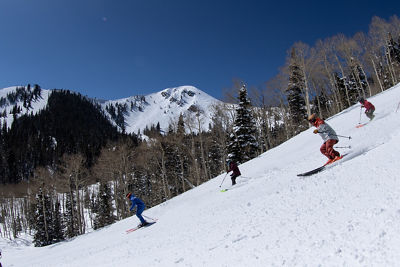 Visiting for the first time is an unforgettable experience. To maximize your time with us, check out the tips below.
Schedule a Lesson
We highly recommend that first-time skiers and snowboarders take a lesson with our top-notch Ski and Snowboard School. It is imperative to learn proper technique in order to prevent injury and make the sport more enjoyable. Whether you want to learn a new sport, improve your skills or just want to find the powder stashes that only locals know, our Ski and Snowboard School has the program for you.
Book a lesson online here.
Purchase Your Lift Tickets in Advance
Pre-purchase lift tickets online seven days in advance for the lowest price, guaranteed. You won't find a better deal anywhere else, plus, you'll get to skip the ticket window and go straight to the lifts.
Purchase lift tickets online here.
Avoid High Altitude Illness
The top of the resort is almost 2 miles above sea level. Be mindful of this factor and exercise in moderation while drinking more water than usual. When combining altitude and physical exertion, you need to hydrate before getting thirsty. Eat food high in carbohydrates, such as grains, pasta, fruits and vegetables, and avoid salty foods. Limit alcohol consumption. Drinking alcohol and cheating yourself on sleep the night before skiing significantly increases chances of altitude sickness.
Stay Hydrated
Skiing and riding are athletic activities. Just as you'd drink water or a sports drink at the gym, you should stay equally hydrated while on the slopes. When dehydrated, your body can't push blood to your fingers and toes, hence cold extremities while sitting still on a chairlift. You'll stay warmer when hydrated, and we recommend fueling your days on the hill with sports drinks like Gatorade, which is packed with electrolytes to keep you hydrated. Sports drinks can be found around the mountain in food and beverage outlets.
Wear Waterproof Ski Apparel
Appropriate clothing can make or break your day on the slopes. Invest in a pair of waterproof ski pants and pass on jeans as they get wet and do not allow for enough movement. A waterproof shell is your best bet for a jacket, with a fleece and under layers for additional warmth. Contrary to popular belief, the thinnest pair of cotton socks are best for circulation, comfort and boot fit. Additional comfort can be achieved by wearing highly breathable clothing specifically made for winter outdoor activities. Neck gators, hats and face masks are also highly recommended.
Dress Appropriately for Changing Weather


Wear water-resistant, layered clothing that can be removed or added to (e.g., sweater, waterproof jacket and pants, nylon socks, baseball cap, sunglasses) as weather conditions change often. Goggles or sunglasses are important not only for UV protection, but also for protection from wind and snow which can make it hard to see.


Be Sun Savvy


At 9,600 feet, the Utah sun is 40% stronger than at sea level. Sunscreen and protective eyewear that has UV protection is recommended, as ultraviolet rays are more powerful at higher elevations. Also, regardless of your skin color or complexion, everyone needs to wear sunscreen, even on overcast days because ultraviolet rays still penetrate cloud cover. Opt for at least SPF 15 with broad-spectrum protection that blocks both UVA and UVB rays. Apply sunscreen several times a day and apply lip balm or ChapStick as needed.
Getting Around: Parking & Transportation


Getting around town is easy thanks to our free, bio-diesel, bike and ski-friendly public transportation system.
Read more or download Park City Bus Maps
.

Weather to Expect


Summers are dry and mild with an average summer high of 80 degrees Fahrenheit.
Visit the Visitor Center


Park City Chamber Bureau staffs visitor centers at both Kimball Junction and on historic Main Street, where local experts can help you plan every element of your trip.
For more information visit the Park City Chamber website.