Park City Mountain Village
LEGACY LAUNCHER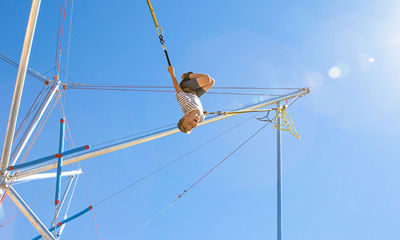 Legacy Launcher
The Legacy Launcher features four separate trampolines, each equipped with a safety harness, making it easy to bounce, flip and fly. Try out your tricks here!
Details:
Guests must be able to fit in the harness correctly (sorry, children in diapers cannot participate).
Guests need to weigh between 30lbs and 180lbs.
Tickets may be purchased online or at the Park City Mountain Village ticket windows during operating hours (ticket window close 15 minutes prior to resort closing).
Guests must be in line for the activity prior to closing time.
Activities are subject to change/closure at any time due to weather, wildlife and/or capacity.
Online Cancellation Policy
Summer activity products are non-transferable and non-refundable once activated, but may be changed or cancelled in some circumstances. Requests for changes or cancellations must be received prior to ticket window closure on the reservation date, ticket(s) must be unused, and guest must have proof of purchase. Please visit the Park City Mountain Village ticket windows or call
(435) 649-8111
between 10am and 5pm and select the last prompt to speak with a Resort Operator for more information.