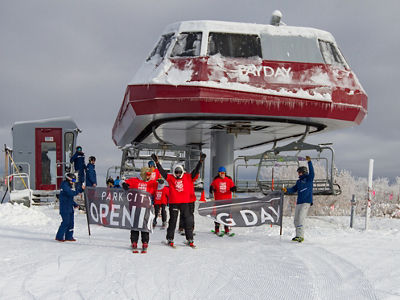 We love summer in Park City, but we're always dreaming about winter—can you blame us? When temperatures start to drop and the leaves begin change, you'll find us dusting off our ski equipment, doing our snow dances, and preparing for those long-awaited early-season turns.
While you're doing your pre-season workouts to get those powder legs ready, check out these 5 bits of Insider Info to know about early-season skiing at Park City Mountain.
Snowmaking is key!
Park City Mountain has the largest snowmaking system in Utah which means if the conditions and temperatures are right, we can provide an awesome snow surface in November, even without much natural snowfall. That said, you need a little bit more than freezing temps to make good snow. There's a complex science and strategy behind snowmaking and our expert team of snowmakers have decades of experience to ensure Park City's snow surface lives up to Utah's Greatest Snow on Earth reputation. If the conditions are right, we will start making snow in late October to prepare for our November Opening Day, and will continue snowmaking throughout the early season.
Don't expect all 330 Trails to be open on Opening Day
We wish we could all be skiing epic powder and 7,300 acres of terrain on Opening Day, but in reality, it takes several weeks of snowmaking, trail preparation, snow safety work and a lot of help from Mother Nature to fully open the mountain. Opening Day is all about building excitement for the season, getting back on snow and warming up those legs so you can ski all season long! Conditions permitting, we will typically open with runs off of Payday, First Time, and 3 Kings Lifts in the Park City Mountain Village and runs off of Red Pine Gondola, Saddleback and High Meadow at Canyons Village. Once we're open, our Mountain Operations team will continue to work hard around the clock to open up additional trails and lifts daily.
Click here for terrain updates
.
Know About the Quicksilver Connection
The Quicksilver Gondola was installed in 2015 as the connection between the once separate Park City Mountain Resort and Canyons Resort. Now, it's your direct route to ski and ride between our two main base areas. Every year, our team works hard to open up the gondola as soon as possible so you can explore the resort from one end to the other. With a little help from Mother Nature, we typically target a mid-December opening date for the Quicksilver Gondola.
Flash your Pass for Sweet Deals
We love heading to Jupiter Java to grab a warm cup of cocoa with friends after a morning of early-season turns. Remember, if you're an Epic Pass holder, you can get 20% off food and beverage, lodging, group ski and ride school lessons and equipment rentals simply by showing your pass. Additionally, as part of these Epic Mountain Rewards, Pass Holders can redeem one free wax and 50% off one basic tune per season at select U.S. locations. Early-season is the perfect time to take advantage of that passholder perk.
Learn more here.
Uphill Skiing Starts on December 15
If you like to earn your turns before or after the lifts are spinning each day, be sure to learn about our uphill ski policy. Uphill access is NOT allowed on trails during mountain preparation/early season snowmaking, as the work taking place makes it unsafe for public use. But good things come to those who wait! Uphill travel opens on December 15 for non-motorized use on Homerun trail from the bottom of First Time Lift up to the Angle Station, between 6:00 p.m. – 8:30 a.m. until the final day of the season. We love to see skiers seizing the day on Homerun, but please be aware that dogs, sleds and mountain bikes are not allowed. Be prepared and learn more here.
We hope you enjoyed these insider tips. No matter the time of season, we can't wait to welcome you to Park City Mountain!