Future Changes
Sunrise Gondola Project
Proposed
SUNRISE GONDOLA PROJECT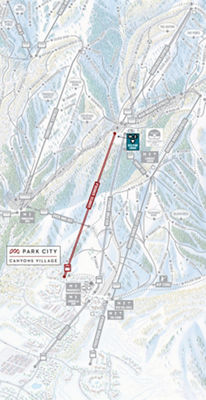 Proposed alignment for a
6,500 FOOT, 10-PASSENGER GONDOLA
Park City Mountain is pleased to be working with CVMA to explore the replacement of the Sunrise chairlift with a 10-person gondola to improve circulation and access from Canyons Village to the Red Pine area. This project is in the early stages of planning and is subject to approvals, including permitting by Summit County.

PROPOSED PROJECT HIGHLIGHTS
6,500 foot, 10-passenger gondola
Base terminal located next to Pendry Park City and The Lift
Final destination located in the Red Pine area
Improved overall flow and circulation in the Canyons Village base area, resulting in reduced wait times
UPGRADED EXPERIENCE
This project marks a significant improvement to the guest experience. We are excited to get guests on snow faster out of the Canyons Village base area. Subject to approvals:
We anticipate a significant reduction in wait times in the Canyons Village base area.
Sunrise Gondola will terminate at the Red Pine area, providing a third lift option to complement Red Pine Gondola and Orange Bubble Express for upper mountain access.
Sunrise Gondola will provide greater access for lodging guests and day skiers and snowboarders, improving the mountain access experience for everyone.
High winds can cause frequent impacts on the Canyons Village base area. The new alignment of Sunrise Gondola will be less susceptible to wind, significantly reducing weather-related holds and closures in the Canyons Village base area. Sunrise Gondola will have:
An alignment that is sheltered from the north
A profile that follows terrain contour rather than crossing wide spans at height
Greater cabin weight that provides stability
WHAT TO EXPECT
Sunrise chairlift will operate in winter season until Sunrise Gondola installation is complete, subject to approvals. Construction will be compliant with Summit County and CVMA building codes and regulations.
Phase One
Phase Two
Utility relocations and infrastructure improvements
Construction work and temporary fencing near the bottom terminal
Establishment of lift corridor on mountain
Phase Three
Removal of existing Sunrise chairlift
Installation of terminals, towers, rope and cabins
Construction of bottom terminal plaza
Park City Mountain is committed to continuous community engagement. We welcome your thoughts and comments at
feedback@vailresorts.com
.
Frequently Asked Questions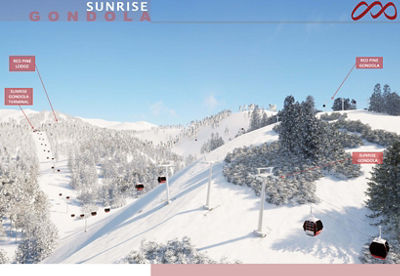 The proposed alignment is sheltered from the north and follows terrain contour to minimize wind impact.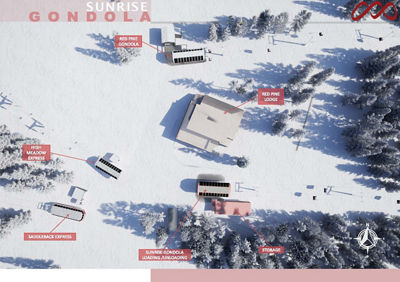 Proposed arrival point provides access and options to ski or ride from a choice of 6 lifts and terrain for all ability levels.
SUNRISE GONDOLA WOULD TERMINATE AT THE RED PINE AREA, OUR YEAR-ROUND MID-MOUNTAIN HUB, PROVIDING A THIRD LIFT OPTION TO COMPLEMENT RED PINE GONDOLA AND ORANGE BUBBLE EXPRESS FOR UPPER MOUNTAIN ACCESS.
This multi-year project is subject to approvals, including permitting by Summit County.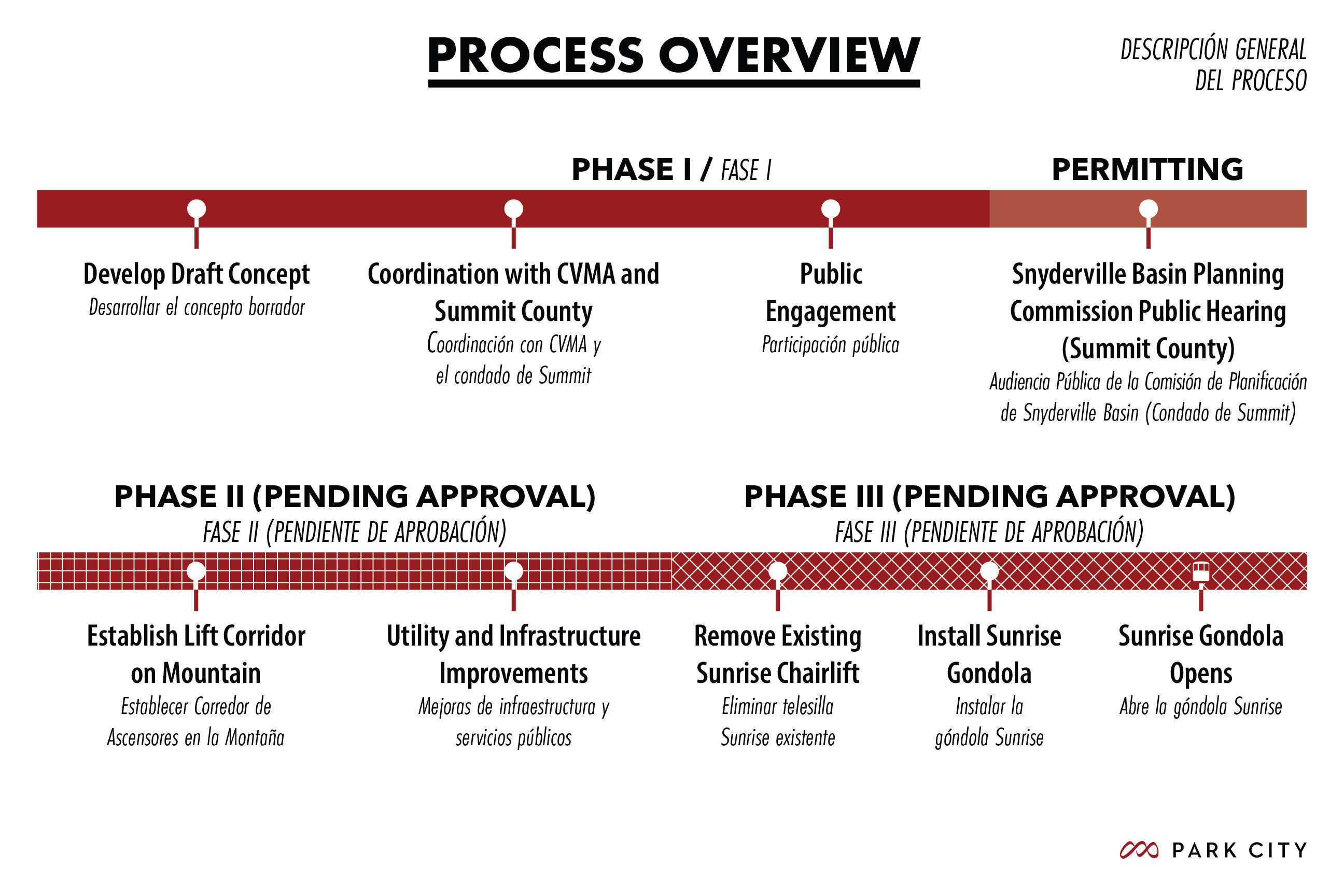 NOTE: Anticipated timeline and process as of August 3, 2023, subject to change