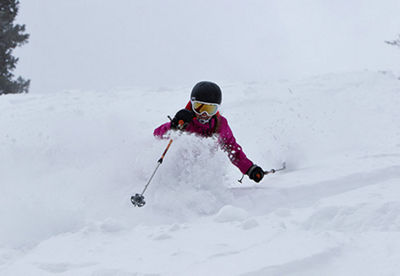 Ability Level:
Advanced and Intermediate
How to get there:
McConkey's Express is located on the southern-most part of the mountain and is home to some of Park City's most iconic views of Jupiter Peak. You can easily access McConkey's Express from Park City Mountain Village; after a quick ride on Crescent Express, ski down Homerun and take a right turn onto Shortline which will drop you off right at the base of the lift. Now tighten those boots, make sure that board is nice and secure, and let the fun begin!
Some of Our Favorite Trails:
With run access to intermediate terrain, all the way up to "Expert Only" terrain, there is something for adventure seekers of all levels. Our 3 favorite trails to help you get your adventure started are: Georgeanna, Sundog and McConkey's Bowl. A bonus tip for those really looking for a thrill: this lift also gives you access to some of our extreme terrain on Jupiter Peak that is only accessible by hiking along the Pinyon Ridgeline.
Intermediate Terrain: Georgeanna
One of the only blue runs off McConkey's Express is Georgeanna. Boasting amazing views of large pine groves and Jupiter Peak, this long and winding trail is sure to spark a sense of adventure for all who ski or ride down it. If you're looking for a little extra adventure on your way down, be sure to take a right turn onto Powder Monkey and feel like you're swinging through the trees with the monkeys!
As you get to the top of the lift, you'll be able to see Sundog along your right side. This black diamond is perfect for those looking for some steeper terrain and amazing views, without the intimidating label of a double-black diamond. Our favorite time to ski Sundog is after a night of snow to ensure those turns are soft and fun!
Extreme Terrain: McConkey's Bowl
Moving on to some of our extreme terrain (which there is no shortage of in the McConkey's area) we recommend pointing those skis or board down McConkey's Bowl. Named after local-legend Jim McConkey (father to big-mountain skier Shane McConkey), this steep, double-black lives up to that legendary name. Often coated with moguls, your legs will be stronger than ever after a few laps through McConkey's Bowl!
Tree Runs: Molly's and Black Forest
On days where you're craving an extra dose of excitement, we have just the trails for you: Molly's and Black Forest. Picture yourself weaving through the trees in knee-deep powder, with no one around but your best friends. It's runs like this that help us fall in love with snow-sports all over again. We recommend taking a scouting mission through these areas and picking lines that are well spaced out and free of any natural hazards, such as downed trees or stumps.
Hike-to Terrain: Jupiter Peak
Last, but certainly not least in the McConkey's Zone is all of our hike-to terrain. This refers to any trails that require you to hike to the beginning of the run and are normally classified as extreme terrain. As you make your way along the ridgeline, you'll first come across P-Zone and O-Zone. These 2 trails consist of steep, long slopes and are held as some of the best terrain on our mountain. For those looking to warm those legs up a bit more, continue to Jupiter Peak where you will be greeted with some amazing views of Park City and some even better skiing down. As you drop into The Chutes, we're sure your adrenaline will be pumping as you slide past exposed rock on either side of you.
Insider Tip: Grab Lunch at Mid-Mountain Lodge
After a few laps on McConkey's Express, we're sure you will have worked up quite the appetite. As you are skiing down the mountain, off to your left side you'll notice the Mid Mtn Cutoff Trail. Follow this trail and it will lead you to the local-favorite Mid-Mountain Lodge. Here you can grab a bite to eat and a warm beverage, then head out to the patio to soak up the views, rest the legs and stay warm by the fire.
We'll see you on the slopes!