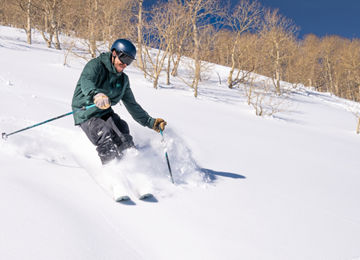 The air is cold , crisp , and smells of pine and snow. The bright Utah sunshine warms your face and sends sparkling rays across pristine powder . There's a pleasant silence that is only interrupted by the wind through the pines or a passing joke from your friends . At over 9,000 feet in elevation, you're slightly out of breath from the 20-minute bootpack , but the views, the smiles of your friends and the terrain stretching out before you are more than worth the hike. As you crest the hill, you set your gear down to catch your breath and take in the expansive view. Adventure beckons , you step into your bindings, pick your line and drop into knee-deep powder turns and endless smiles.
This is Pinecone Ridge.
On the backside of the Wasatch Mountains, stretching nearly 2 miles from Scott's Bowl (or the start of "Puke Hill" as it is affectionately known to locals) to the mid-station of the Quicksilver Gondola you'll discover a series of challenging, adventurous and picturesque runs that make up Pinecone Ridge at Park City Mountain.
Pinecone Ridge is a series of expert runs on the north side of Thaynes Canyon that tend to serve up adventure and untracked powder. But these runs aren't for the faint of heart – the 662 acres of high-alpine terrain are accessible by boot-pack from Scott's Pass or the Quicksilver mid-station.
The first runs you'll encounter coming up from Scott's Bowl are Pinecone, Two Goons and Constellation. Pinecone gives you a sweeping view of the Wasatch Mountains (on a clear day you can see the peaks of Little Cottonwood Canyon!) before sending you down to Thaynes Canyon through knee-deep powder. Two Goons is one of the longer runs on the ridge giving you and your friends ample opportunity to perfect your powder eights
Next, you'll come to the middle of the ridge (and probably your best place to find untracked powder), where you'll find Half Moon, Quarter Moon and New Moon. This area offers stunning views of Thaynes favorite runs like Hoist and Double Jack. Half-Moon is the longest run on the ridge and is a steep face that takes you through open sun-kissed meadows and aspen groves before ending in a glade of pines and aspens just above Thaynes Canyon.
Accessing lower Pinecone Ridge is easiest heading up the ridge from the Quicksilver Mid-Station. From Quicksilver you can easily access Limelight and Homelight and Sam's Knob. After hiking to the top of Homelight enjoy fall-line skiing through a wide bowl before weaving through a picturesque aspen grove. Sam's Knob is a challenging tree run opening into a sunny meadow with views of Jupiter Peak.