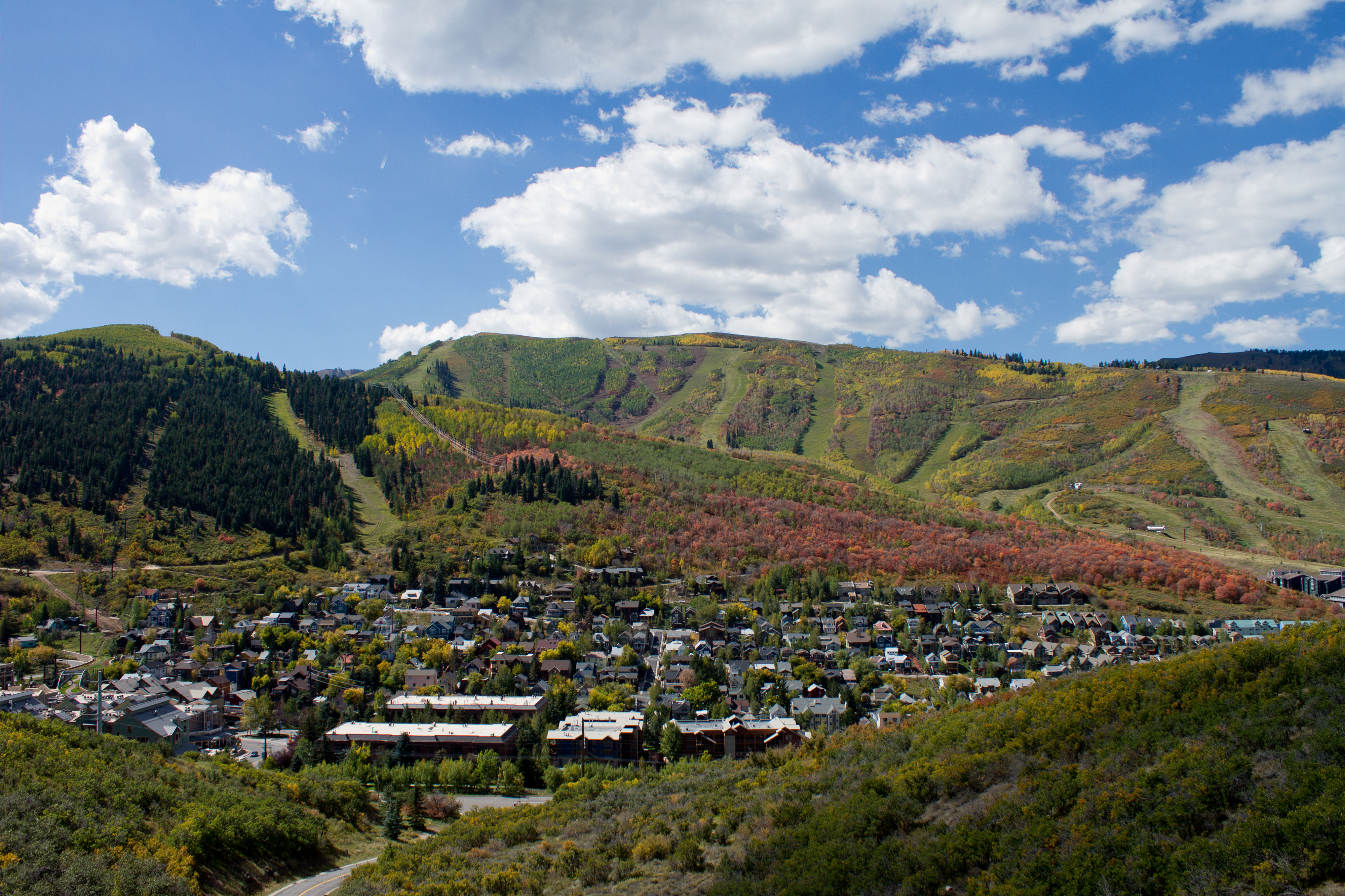 Shoulder season has arrived in the Wasatch Mountains and while we're still a few weeks out from snow falling and our lifts spinning – there is still much to explore and enjoy around Park City. So grab your pumpkin latte and your favorite flannel and get out to enjoy the crisp fall air and the beautiful palate nature reveals in these mountains for a few weeks each year.
With a base elevation of 6,800 ft Park City's slopes are a mix of deciduous, fir and pine trees, which bring out the mix of red, gold and green when fall arrives. Quaking Aspens with their smooth, white bark have small, flat, heart-shaped leaves that turn gold and orange in the fall. They grow on sunny, dry slopes and often in dense groves. You'll find colorful Aspen groves throughout Park City Mountain and Canyons Village, with groves lining Payday and beneath Crescent Express. The vibrant reds come from the Gambel 'Scrub' Oak and Rocky Mountain Maple trees. Gambel Oak grows best on dry foothills and canyon walls and is relatively short with crooked branches. Its leaves are short with three to four rounded cleft lobes that turn red in the fall. Ride down CMG at Park City Mountain to enjoy the colorful Gambel Oak trees. You'll find the reddish-orange maples intermixed throughout some of the Aspen and pine groves along the slopes.
The Best Places to Find Fall Foliage
McPolin Barn and Farm – This historic Park City landmark is adored by both locals and visitors, and is a popular place to explore Park City history, take in the mountain vistas, enjoy a mellow hike or pose for a fun photo session. McPolin Barn was built in 1922 of recycled timbers from one of Park City's old tailings mills. Today, the McPolin Farm Nature Trail offers an opportunity to learn about the plants and wildlife of the Park City area along an easy 1.75 mile paved route that winds through the farmland giving spectacular views of the mountains and historic barn.
Guardsman Pass – Buckle your seat-belt and take a curvy drive along the top of the world across Guardsman Pass. This seasonal road connects Park City with Big Cottonwood Canyons with sweeping views of Heber Valley and the Wasatch Mountains. If you love the view from the top of McConkey's in the winter – you'll fall for driving Guardsman in shoulder season. The road is typically open from late May through late October and tops out at just over 9,700 ft. There are several popular hikes along the pass including Bloods Lake and Clayton Peak. Take a detour down Pine Canyon towards Heber City and Midway to enjoy the brilliant colors and foliage of Wasatch State Park.
Iron Mountain – Nestled between Park City Mountain Village and Canyons Village, Iron Mountain offers unparalleled views of Park City Mountain's slopes. Enjoy a hike up Armstrong or Dawn's Trail to take in the foliage and vistas. If you're looking for a more robust adventure, try the short but steep Iron Mountain trail to reach the summit of Iron Mountain at just under 9000 ft with stunning views of the slopes at both Park City Mountain Village and Canyons Village.