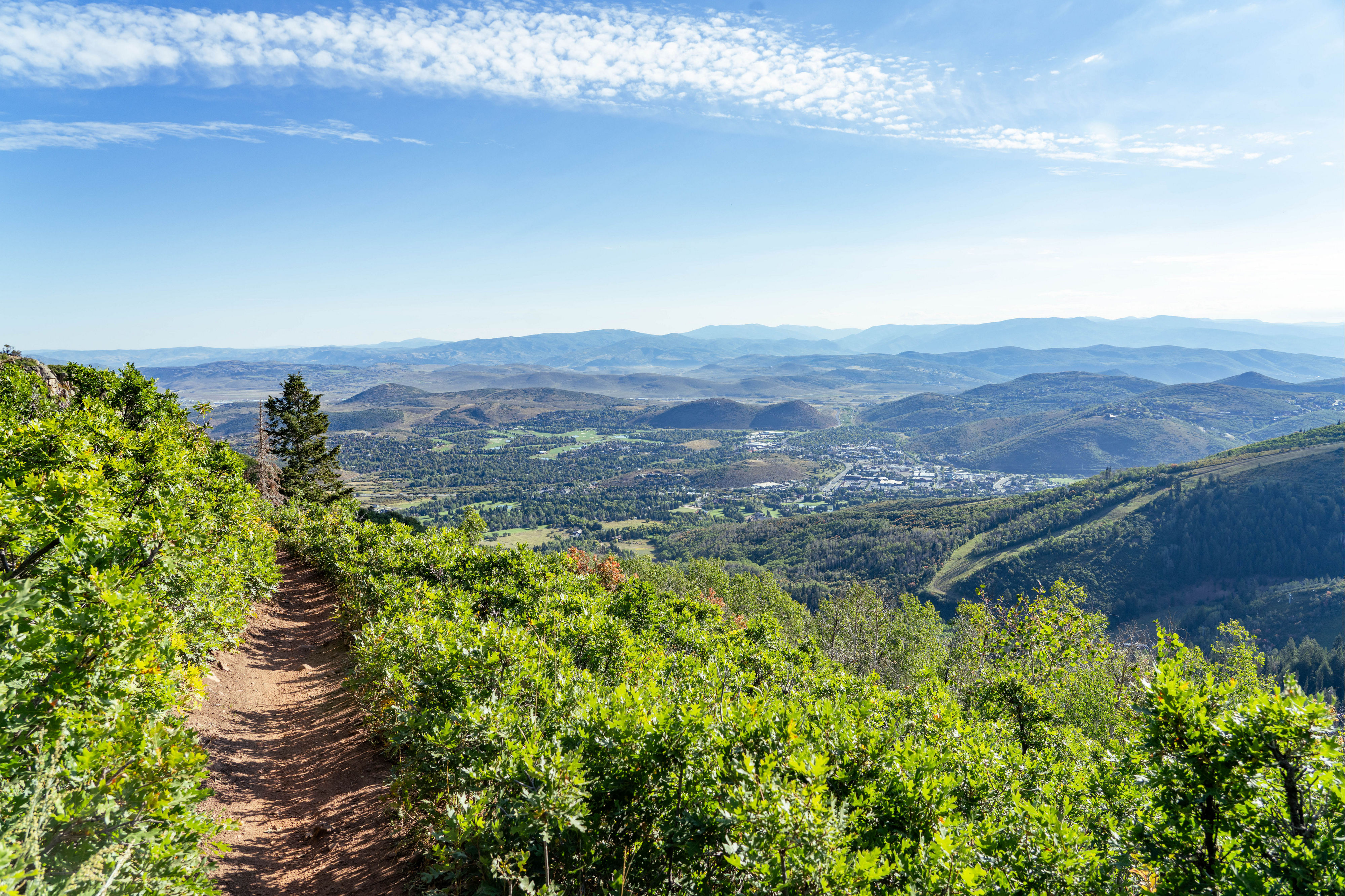 Fall is a stunning time in Park City. The mountainsides erupt into a palate of golds, reds and oranges from our Aspens, gambel oaks and maple trees. Hiking is a great way to enjoy fall in Park City. With over 400 miles of trails across Park City there are countless trails to choose from. Check out our top picks for the five best fall hikes in Park City.
Length: 2 miles out-and-back
Access: Off Park City's Rail Trail trailhead; east of White Pine Touring. Parking is available at Prospector Park or Rail Trail.
Wow Factor: Sweeping Views of Old Town Park City
This short but stunning trail is conveniently located off Park City's popular Rail Trail. Head up Freemason Trail to stretch your legs and enjoy sweeping views of Old Tow Park City and Park City Mountain. The trail takes you on a mellow climb through Aspen trees, pines and gambel oak trees. Park City's Aspen trees and oaks provide stunning fall colors.
Length: 9 miles out-and-back
Elevation Gain: 1,325 feet
Access: Canyons Village near the base of the Orange Bubble Express.
Wow Factor: A mellow climb out of Canyons Village, Holly's wanders through Aspen groves and winds around Alpine Lake.
Holly's Trail is enjoyable in any season, but shines during Fall. Holly's Trail is one of the most popular hikes out of Canyons Village and winds up the mountain taking you around Alpine Lake to Red Pine Lodge. The trail has a gentle incline and winds through Aspen groves and crosses several of the iconic ski runs at Canyons Village.
3. Jupiter Peak via Io Trail (From Guardsman Pass)
Length: 3.4 miles round trip
Difficulty: Moderate-Challenging
Access: Bloods Lake Parking Lot
Wow Factor: 360-degree views of Park City Mountain, Wasatch Mountains and Heber Valley
Jupiter Peak is one of our favorite places to ski and ride in the winter, and is also a fun fall hike! The easiest way to access Jupiter Peak is from the Bloods Lake Parking lot on Guardsman Pass. This lot fills quickly on weekends, so go early! The Io trail is accessed from northeast side of the parking lot. Enjoy a shaded hike through Aspen groves and alpine meadows before turning left when the Io Trail opens up to a dirt and gravel road. The road takes you up to the top of McConkey's chairlift. Once you reach McConkey's, continue heading up along the ridgeline on a rocky trail that heads toward the peak. If you've hiked Jupiter Peak in the winter from McConkey's chairlift, it's the same trail in the fall! The trail passes the Jupiter Peak patrol shack with a little rock scramble to the summit. From the 10,000 foot summit, enjoy unparalleled views of Park City Mountain, Guardsman Pass and the Wasatch Mountains.
Length: 4 miles – one-way to Mid-Mountain Trail; 3.3 Miles Armstrong Trail to Dawns Trail Loop.
Elevation Gain: 1,259 feet
Access: Park City Mountain Village – Silver Spur trail to Sprio
Wow Factor: Winds through colorful Aspen groves with views of Thaynes Canyon and several stone benches to enjoy the vistas.
Armstrong Trail is a popular, multi-use trail at Park City Mountain that takes you from the base area up to Mid-Mountain Trail. It is accessed via the Silver Spur trail near Eagle Lift. The moderate grade of Armstrong makes it an enjoyable uphill hike. Armstrong Trail is mulit-use, but mountain bikers may only bike uphill on the trail. The trail can be used both uphill and downhill for hikers and runners. The trail is mostly shaded and winds through pines, Aspens and oak. Hikers can connect Armstrong to Dawns Trail or HAM for a shorter loop and stunning mountain views of Thaynes Canyon.
Length: 6.5 miles out-and-back
Access: Park City Mountain Village – Under First Time
Wow Factor: Sweeping views of Park City Mountain, gorgeous Aspen groves and smooth switchbacks. Hike across ski runs and under chairlifts to get to Mid-Mountain.
Jenni's Trail is a popular fall hike in Park City. The trail has a pleasant grade and winds across Park City Mountain's ski slopes as it heads up the mountain. Gentle switchbacks take you in and out of Aspen groves and offer sweeping views of Park City Mountain. Hike under and around chairlifts to enjoy fall wildflowers and keep an eye out for wildlife that frequent the meadows along the trail.