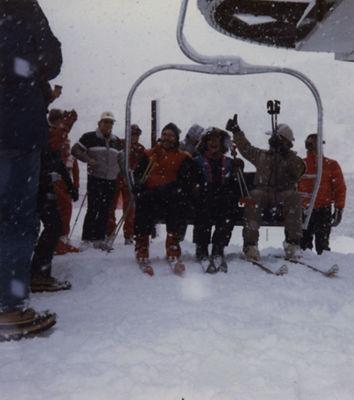 This season Park City Mountain celebrates its 60th winter season. As the season approaches, we're looking back on the rich history of Park City Mountain from its earliest days to the world-class destination it has become today.
The decade between 1983 and 1993 in Park City stands out in many of our fondest — and in some of our saddest — memories. For me, this was the decade when I first tried skiing as part of a sixth-grade field trip to Hidden Valley Resort outside St. Louis, Missouri. For Park City Ski Area, this decade would bring the FIS World Cup to Park City along with the possibility of skiing to Main Street and riding back to the mountain via Town Lift. This was the decade when our nation watched the Challenger Space Shuttle explosion, and this was the decade when our small mountain town lost Craig Badami in a tragic helicopter accident.
Park City Ski Area made its debut on the world stage, hosting its first FIS World Cup event, the Men's and Women's Slalom, on March 19-20, 1985. Marc Girardelli of Luxembourg won gold in the men's event and Erika Hess of Switzerland won gold in the women's event. (Fun Fact: Erika's Gold off Crescent Ridge is named in honor of Erika Hess.) After a second successful event in March 1986, Park City moved its FIS event to November for the 1986-87 season, re-branding it "America's Opening" as the first world cup event of the season in America. Park City would continue to host America's Opening through the 2000-01 season.
"The World Cup races were a great event that everyone looked forward to each year. A tremendous number of resources were dedicated to making them happen in November, all while hoping for cold temperatures so we could build the surface the racers had come to expect. Some years we had to use the snowmaking system to firm up the surface, while other years, we would have to carefully remove new snowfall from the course. All in all, the experiences our team gained thorough the World Cup races enabled us to be ready for the Olympics in 2002." - Mel Uhl, Park City vehicle maintenance manager, former snowcat operator and snowmaker.
The early part of this decade saw the arrival of two more triple chairlifts that have since become iconic and beloved parts of our mountain. Pioneer chair was installed in 1984 and Town Lift in 1985. Town Lift connected Park City Ski Area directly to historic Main Street, giving guests the ability to ski into town and ride back up the mountain. This unique experience remains a beloved Park City tradition.