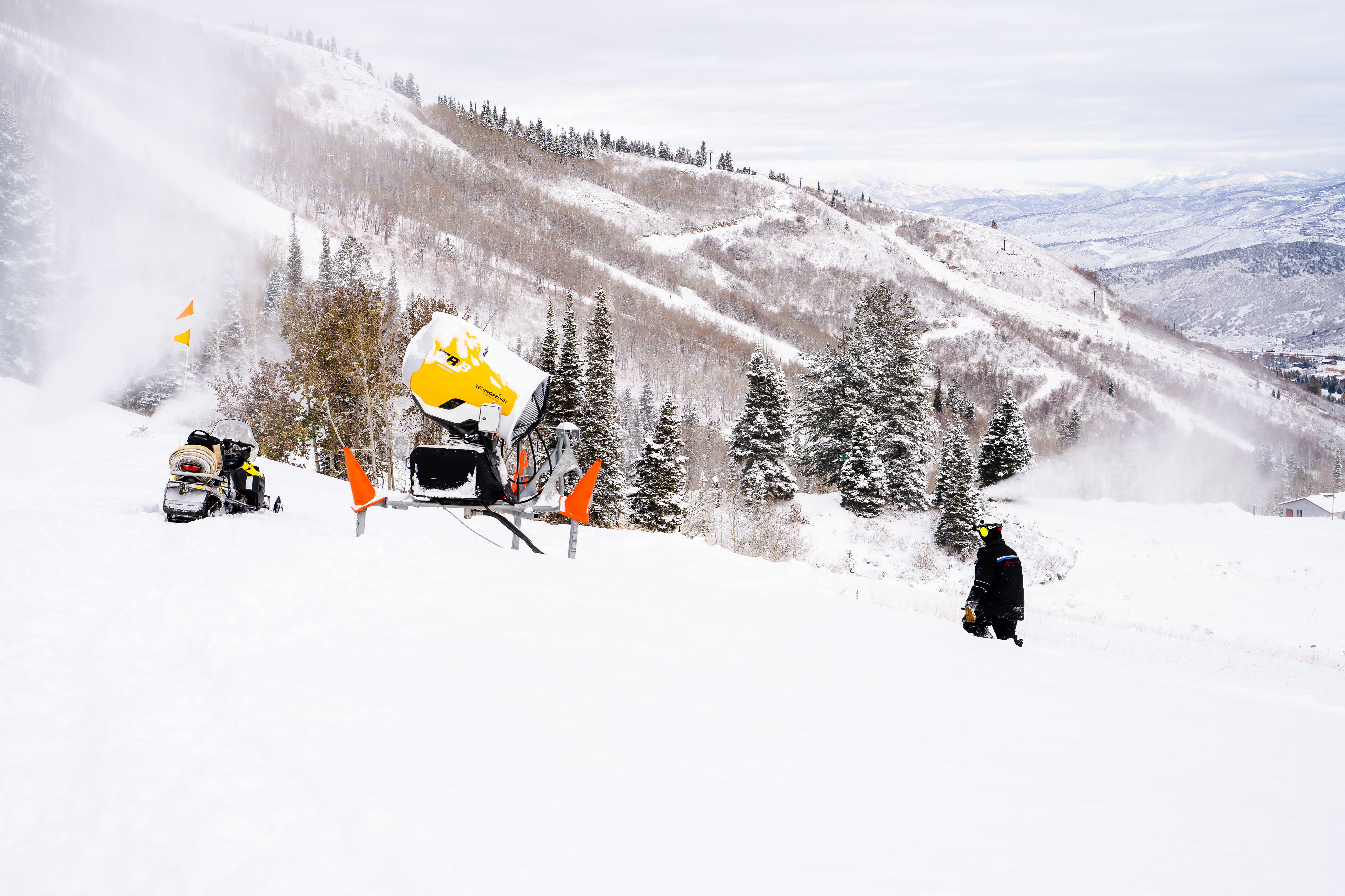 Park City Mountain has the largest snowmaking system in Utah. That means when the conditions and temperature align, we are able to provide an awesome snow surface early in the season – even if we haven't received much natural snowfall. There's a science and a strategy to snowmaking, and our expert team is giving us a peek behind the curtain to explain the Science of Snowmaking.
Park City's Snowmaking History
Did you know that Park City Mountain has been a leader in snowmaking for over 40 years? Our initial snowmaking systems were built in 1978 after a run of low snowfall winters.
Snowmaking 101
Each season before opening day, Park City's snowguns roar to life to create the perfect snow surface for your skiing and snowboarding adventures. Once the temperature and humidity align to the ideal wet-bulb temperature, Park City's snowmakers begin to work their magic. Snowguns blow air and water into the atmosphere to create snow across many of Park City's favorite runs. While we appreciate the boost from Mother Nature, machine-made snow helps create a stable base and enables us to safely open terrain earlier in the season.
Breaking Down the Wet-Bulb
If you've ever looked into how snowmaking works (it's ok if this is your first time!) you may have seen references to something called the wet-bulb temperature. The wet-bulb temperature is a measurement that is a combination of the air temperature and the amount of moisture, or humidity in the air.
Lower humidity corresponds to a lower wet-bulb temperature, and for every 10% of humidity below 100% your wet-bulb temperature goes down by about one degree. For example, if it's 30 degrees out with 70% humidity, your wet-bulb temperature would be approximately 27 degrees.
When the wet-bulb temperature is below 28 degrees Fahrenheit or -2 degrees Celsius, we can make snow! Since the wet-bulb temperature is driven by humidity (the amount of moisture in the air), there are times when we are able to continue snowmaking operations if the humidity is low but the temperature is above freezing. This can be extremely helpful in early-season snowmaking when the temperatures can hover just above freezing during the day but drop below freezing at night.
Snowguns
Once the wet-bulb temperature is a go, we are able to fire up our snow guns. Park City uses a combination of automated and manual snowguns to ensure we have coverage across key areas of the mountain. Snow guns work in two different ways. Manual air/water combines high pressure water with high pressure compressed air. The compressed air splits the water in to tiny droplets and launches them high enough to allow them to freeze before hitting the ground. Automated fan guns work in a way where water is passed through nozzles on the barrel of the gun and mixed with air produced by an on-board air compressor pushed through the nucleator. The fan then propels the plume out into the air/ski run where it cools and falls as snow.
Snowmaking FAQs
Q: Do snowguns shoot out snow?
A. No. Snowguns blow a combination of air and water that mix together in the natural environment and form snow.
Q: How many snowguns are at Park City Mountain?
A: We have 143 fan guns 390 air water manual guns with 48 miles of pipe and 1500 hydrant locations
Q: When does snowmaking typically start at Park City Mountain?
A: Depending on the weather, snowmaking starts around the middle to end of October
Q: How much machine-made snow is there at Park City Mountain??
A: On a typical year we make about 2000 acre-feet of snow
Q: What's it like to be a snowmaker?
A: When the temperatures are ideal for snowmaking, our teams are working 24/7 to ensure we are ready for opening day and can continue to expand open terrain during the early season. Teams conduct safety briefings, monitor snowgun output and adjust manual snowguns to ensure our systems are running properly and efficiently.