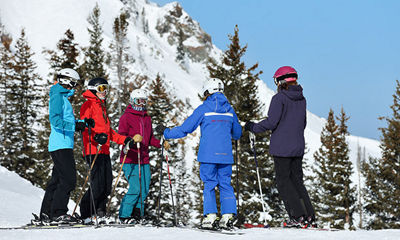 Whether you prefer gentle groomed runs or steep slopes, our world-class instructors are here to help you sharpen your skills and explore more of the mountain with confidence! For those who are completely new to skiing or taking a lesson, we have outlined our top tips to make the most of your first experience with Park City Ski & Snowboard School. From prepping for your day on the snow to picking up your gear and finding your lesson, check out these tops tips from our General Manager of Ski & Snowboard School, Mary Flinn Ware.

Tip #1: Book Your Ski & Snowboard School Lesson in Advance
To take advantage of the lowest prices and ensure guaranteed availability for your lesson of choice, we recommend booking online in advance. Plus, you'll enjoy express check-in on the day of your lesson, giving you more time on the mountain! And don't forget, Epic Pass holders get 20% off group lessons with Epic Mountain Rewards.

Tip #2: Plan Ahead and Talk it Out
Most guests are excited to take a ski lesson, but some of our new skiers or younger guests may have a bit of apprehension. Take time ahead of your lesson to talk with your family or group about your upcoming experience and discuss everyone's goals, abilities and preferences so that you can be sure you're getting everyone into the right type of lesson. Take a look at the weather to be sure you're dressed for comfort in winter conditions, and get plenty of rest so you're ready to conquer the mountain!

For kids who are leaving their families to join a group lesson, provide a strong reassurance that you will not be far away, that they'll be well taken care of with their instructor, and help them get excited about the fun learning experience they're going to have.
Tip # 3: Review Our 2021-22 Winter Safety Protocols
Whether you're looking for a beginner lesson or to unlock new terrain, our world-class instructors have completed COVID-19 protocol training and are committed to providing you with a safe and fun experience. Before you meet up with your instructor, be sure to review our 2021-22 winter protocols here.
Group and private lessons are available for all skill levels, for guests aged 3 and above. Full and half-day lessons (and season-long program) availability varies based on dates and times.
Guests 12 and older enrolled in a full-day lesson will need to provide proof of vaccination in order to dine with the group. Adult lesson participants (15+) may choose to not provide proof of vaccination and dine without the group. Lunch for full-day child group lessons is included.
Face coverings will only be required indoors and are not required to be worn during lessons while outside.
All participants will be required to complete a pre-arrival self-health screening on the day of each lesson. If you have a minor in a lesson, please review the Child Sickness Policy.
Prepare for your lesson: Click Here for more details to help you prep for your lesson!

Tip #4: Grab Your Rentals
Need to rent gear for your lesson? The rental process can take a minimum of an hour to gear up, especially for a family or group, or if the rental shop is busy when you arrive. If possible, we highly recommend heading to the resort the afternoon before your lesson in order to get your rentals. Many of our rental shops allow for overnight gear storage, so you can just swing by and pick it up on the way to your lesson in the morning! Learn more about rental shop locations, hours and online gear reservations at Park City here.

Tip #5: Arrive Early
On the day of your lesson, plan to arrive at least an hour early to the resort. This will allow for plenty of time to get geared up, make your way to your check-in location (moving around with ski boots and gear can sometimes be slow going!), and familiarize yourself and your family with the base area. If you need to make gear or ticket pickups, we recommend swinging by the resort the afternoon before your lesson. The earlier you arrive, the more time you'll have to meet your instructor and feel comfortable, relaxed and ready to go for your lesson. Also be sure to confirm the base area your lesson is staring from. We have lessons departing from both the Park City Mountain Village and Canyons Village.

Tip #6: Checklist Before Hitting the Snow
Here are a few final tips to prepare before you or your children head out on the snow for a lesson:
Make sure all participants are well-rested and fed. Full-day lessons will include a stop for lunch, but pocket snacks are always great to have on hand.
Stay hydrated, and drink plenty of water.
Wear sunscreen: the elevation in the mountains combined with the reflective nature of the snow can cause sneaky sunburns, even when it is cloudy out!
Dress for success: get comfortable with your helmet, goggles and neck gaiter ahead of your lesson. Foggy goggles are no fun, and can easily be prevented if you are wearing your goggles properly against your face. Utilize a neck gaiter to cover the face from the wind and snow and be sure to wear plenty of layers!
Mittens are warmer than gloves, and often easier for children to pull on and off.
If you're checking a child into Ski & Snowboard School, be sure to communicate with their instructor on any special needs the child may have. Allergy notifications will be required when you purchase your lesson ticket. Supervisors are also available at check-in should you need additional communication points.


Tip #7: Have Fun!
It might sound corny, but we mean it! Our Ski & Snowboard School is here help you have a fun and exciting learning experience. We are passionate skiers and riders ourselves, and we want to develop lifelong lovers of the sport. We know learning to ski or ride can definitely feel challenging at times, but always remember to relax, have fun with it, laugh at yourself and celebrate your growth!

Learn more and book your lesson here.