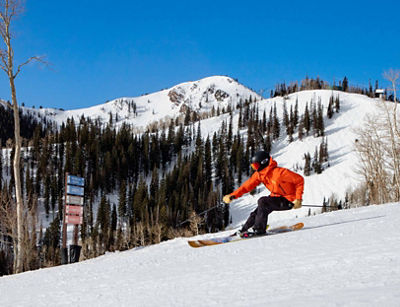 Spring into Fun at Park City Mountain
With over 617" of snowfall (and counting!) this season, we are stoked to be able to extend Park City's 22/23 season into late April. Here's what you need to know to make the most of your spring skiing and riding at Park City.
'Tis the season for Après
When the spring weather turns on, we are treated to sunshine, blue skies and mild temperatures. This is the perfect time to meet up with friends at any of Park City Mountain's fun après ski spots. From Town Lift to Canyons Village – there are lots of great spots to connect with friends in the sunshine after a day on the slopes. And NEW for spring – enjoy our new pop-up après ski experience at Canyons Village with Après at the Airstream at Canyons Village.
Spring Grüv
Swap your ski and snowboard boots for dancing shoes and join us for our Spring Grüv concert series Saturday afternoons starting at 3:00 pm. Enjoy free live music at the Canyons Village forum after a fun day on the slopes. Details and the lineup can be found HERE.
Eagle Super Pond Championship
Don't miss one of Park City's favorite spring events on April 8th! The Eagle Super Pond returns to Park City Mountain Village this year with music, fun, skims, splashes and more!This will be an epic party with prizes for biggest splash, best costume, and best overall skim. The event starts at 12:30pm - so see you there!
Spring Snow Conditions
Powder, corn, slush and cement! Spring can bring out the good, the bad, and the ugly of snow conditions. Spring storms at Park City can bring incredible powder days (hey – who loved that 19" day on March 25th?) and once the sun pops out, the resulting corn snow gives you another opportunity for hero turns.
 In addition to our typical spring storm cycle, the daily spring melt-freeze cycle can impact snow conditions across the mountain. Snow surfaces start to melt under the midday sun and then refreeze after sundown. This can create icy runs on some slopes in the morning but soft turns in the afternoon. Pro Tip: Follow the sun! East and south-facing slopes see the sun first so will warm up faster than north-facing slopes. Start your day on east and south-facing slopes and head to your favorite north-facing slopes later in the day.
Know before you go! As the weather warms up, conditions and terrain will change across the mountain. Our snow safety and patrol teams may open and close areas depending on spring conditions to ensure guest safety. Pro Tip: Check the EpicMix app for up-to-date terrain and lift status.
Dress for the Season
Spring is a time of wild and variable weather and snow – so be sure to check the forecast and come prepared.
Sunscreen is a must on bluebird days – we're well into spring and sunshine can be stronger at higher elevations so be sure to get your SPF on before hitting the slopes. Pro Tip: Keep a pair of sunnies in your jacket for après and keep your eyes protected even after you take your goggles off.
Temperature variations throughout the day and up and down the mountain are more pronounced in the springtime. It can feel like the middle of January on our higher ridges and peaks and downright balmy at the base. Chilly spring mornings will turn into warm sunny afternoons as well. Pro Tip: Don't forget your vents! Many jackets and helmets have vents that help you cool off without having to take your jacket off.
All Good Things Must End
While we are stoked to extend the season – we will be adjusting operations across the mountain as we move toward Spring. Currently, conditions permitting, Canyons Village operations will end on Sunday, April 16 and the last day at Mountain Village will be Sunday, April 23.