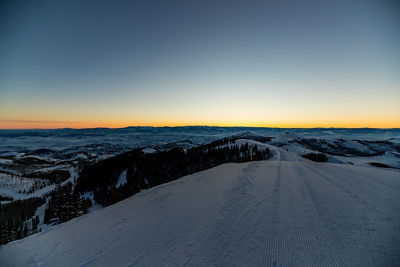 Uphill skiing: while not for the faint of heart, there is nothing quite like earning your turns in the fresh mountain air and enjoying one of Park City's stunning sunrises or sunsets.

Whether you're out on the hill for daily dawn patrol or just trying uphill for the first time, check out our guide below to ensure you're informed before you start your skin.

Dates and Hours
Uphill skiing begins on December 15 each year at Park City Mountain, and is accessible during the hours from 6:00 p.m. – 8:30 a.m. until the final day of the season.

For everyone's safety, we ask that you kindly avoid uphill skiing in the early season before Dec. 15 as we work on snowmaking and preparing our terrain for opening.

Designated Trail:
The route for uphill travel is on the Park City Mountain Village side, up Homerun trail from the bottom of First Time Lift up to the Angle Station (by the top terminal of Town LIft). Please stay toward the side of the trail (climber's left) and be mindful of skiers coming down the trail from above you. As always, do not stop in areas where you might not be visible from above. Please stay on the designated trail for your safety: our grooming and snowmaking teams are out on the mountain with heavy equipment that you don't want to get in the way of!

Uphill travel is for non-motorized access only (bring your skins, not your snowmobile).

Leave your Furry Friends at Home
We love all of our furry friends, but ask that for safety reasons, you please leave them at home if you join us for uphill skiing.

Parking
Uphill skiing has become a popular pastime at Park City. To help out our parking team, please park in the First Time lot.

Be Safe and Aware
Non-paid/Uphill users of Park City Mountain Resort assume all risks associated with access. The ski area is not maintained for uphill access and trails are not patrolled outside normal ski area operating hours, therefore emergency services may not be available. Ski area operations are 24 hours and users may encounter vehicles, slope and trail maintenance activities, snowmaking and other hazards not typically present during operating hours. Skiers must not impede or obstruct ski area operations at any time. Users are subject to the Utah Skier Safety Act.

For more information on Park City Mountain Safety, click here.

Rules and Reminders At-A-Glance
Here's a quick list of uphill safety information and regulations:
Follow the designated route: Homerun from the bottom of First Time Lift and stopping at the Angle Station (top terminal of the Town Lift).
Uphill travel is not allowed beyond the Angle Station
For info and updates, call the Trails Hotline (435) 615-1911
Stay towards the side of the trail
Position yourself so that you are visible from above
Wear brightly colored clothing and reflective materials
Wear a headlamp
Obey all pertinent signage
Avoid all areas where machinery is operating. Snow Cat winching operations may be in progress. Strobe lights mean stay clear and avoid the area altogether.
Be aware that ski area emergency services are not available
No sleds, motorized vehicles, mountain bikes, pets are permitted
Finally, non-lift access to ski area facilities; such as uphill snowshoeing, hiking, or "skinning" may present high danger of personal injury to participants or others and therefore may be limited or forbidden based on conditions, on-mountain activity and/or mountain policy.