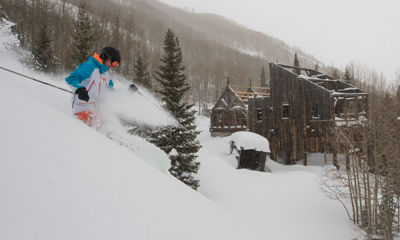 The past, the present, and the powder of Park City, Utah
Park City was incorporated as a city in 1884. The mountains' abundant silver veins attracted adventurers from around the world in the late 1860s. During Park City's mining height, the surrounding mountains yielded $400 million in silver and created 23 millionaires—including the father of newspaper publisher William Randolph Hearst.

However, with falling mineral prices in the 1930s, the boom years ended and residents began "mining" a new treasure on the mountain, discovering what would later be coined The Greatest Snow on Earth.
Through the years, the mountain adopted many names from Treasure Mountain to Park City Ski Area, from Park City Mountain Resort to Park City Mountain. Today, Park City is a unique blend of the old and new, constantly evolving with a nod to the past and a vision for the future.
64 of Park City's buildings are listed on the National Register of Historic Places, many of which are located along the town's Main Street, and more than 1,200 miles of tunnels wind through the surrounding mountains as remnants of the mining era.

The Park City Museum's popular Historic Main Street Walking Tours run mid-June through Labor Day, so put on your walking shoes and get ready to explore.

Miners' Club ($1,000 Donation)

For a $1,000 donation to the Friends of Ski Mountain Mining History, you can be a part of the future in preserving Park City Mountain's unique mining history. Join the Miners' Club and enjoy First Tracks at Park City Mountain for two people during the 2017-18 season on Thursday, March 1, 2018. Lift tickets and coffee are included in the memorable morning of early ups with fellow Miners' Club Donors.

To donate and for more information, please visit Friends of Ski Mountain Mining History

*Your fully-tax deductible donation will support the mission to stabilize and preserve the legacy of historic mining structures at Park City Mountain.