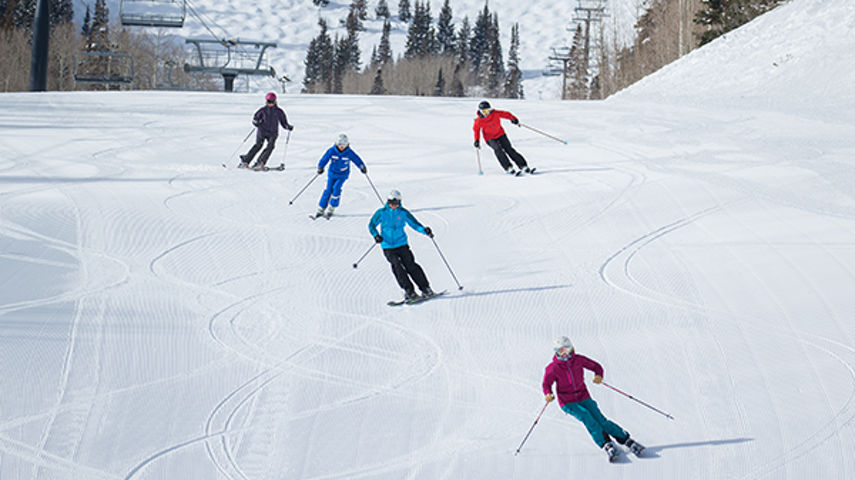 Ski & Snowboard Lessons
Whether you prefer steep slopes, or you've never tried skiing or snowboarding – our instructors will help you sharpen your skills and explore more of the mountain with confidence!
Previous tab
Previous tab
"Staff was great. Had three kids in ski and snowboard lessons and the instructors were all fantastic. We were a bit hesitant as we didn't know if the kids would like the group lessons, but they all loved them and said they would like to do them again."

Guest - Park City Ski & Snowboard School

Interested in your kids getting outside and developing a life-long passion for the mountains? You've found the right place to start. Here's what you need to know.
"Amazing time. Felt safe on the slopes. We did a private lesson for our kids and the instructor was amazing. They were independently skiing within 2 half days without any previous experience."

Guest - Park City Ski & Snowboard School

Frequently Asked Questions (FAQs)
What ski and snowboard lesson offerings will you provide this year at your resorts?
We are pleased to offer a range of ski and snowboard programming including group and private lessons as well as season long and specialty programs. Specific details can be found on our Ski and Snowboard School pages.
When will season long programs be available for enrollment?
Season long programs will be available for registration by mid-September.
What is included with a ski or snowboard lesson?
Each lesson will include professional instruction from one of our instructors. Full day lessons will include a break for lunch, and full day group lessons for children will include lunch. Participants will be responsible for bringing or purchasing their own food in private lessons, group lessons for adults, and season long and specialty lessons for children.
Do lessons Include rentals and lift tickets?
No, lessons do not include lift tickets or rentals. These items must be purchased separately, and all lessons require a valid lift ticket. While purchasing a group lesson, you can add-on lift tickets and rentals at a discounted rate. You may bring your own equipment. Passes are available to purchase here. Buy in advance and online for the best rates.
What should I bring to my lesson?
Weather conditions will vary and remember you will spend the day outside! We recommend dressing in layers including warm clothes, googles/sunglasses and sunscreen. For complete details on what to bring and where to go, read more here.
What if I have special needs or requests, e.g. Drug or Food Allergies?
While we do our best to accommodate dietary needs and offer different options whenever possible, severe allergy concerns or specific circumstances would be best discussed with the school staff directly prior to visiting.
Will face coverings be required in Ski and Snowboard School this season?
No. Face coverings are not required to ski and snowboard, or in gondolas or indoor spaces at this time, unless required by local public health or CDC designation. This includes restaurants, lodging properties, restrooms, retail and rental locations, and base areas. Check local guidance for face covering requirements on buses and shuttles.
What is the cancellation and refund policy for Ski & Snowboard School lessons?
Changes or cancellations can be made in advance of your lesson date by contacting the Ski & Snowboard School conducting your lesson. Any Ski & Snowboard School group or private lesson product that is cancelled prior to 48 hours of the lesson start time will be issued a full refund. Group or private lesson cancellations within 48 hours of the lesson start time will be charged a cancellation fee equal to 50% of the cost of the lesson in the case of a single day reservation.

Lessons are never cancelled due to weather while the resort is operational. For more detailed information on refunds and cancellations, please refer to the Terms of Sale.