Terrain Parks
Park City Mountain has 6 Terrain Parks and 1 Halfpipe + 1 mini pipe for skiers and riders of all abilities.
One of North America's most progressive park & pipe set-ups includes six terrain parks serving the total spectrum of ability levels and 1 halfpipe + a mini pipe.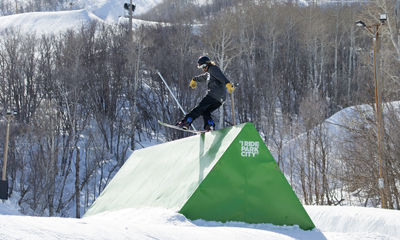 Families and would-be park rats can get their jibbing feet wet in the beginner Little Kings park at the Park City Base.
Emerging intermediates will have a blast in our Pick Axe Park — a park set-up that pays homage to Park City's mining history. On the Canyons Village side, cruise through Transitions terrain park for all over your smaller to medium terrain park needs.
Once you're ready to take it to the big leagues, head over to 3 Kings where we offer a variety of medium and large jumps, rails, wallrides, boxes, and bonks.
Our 22' Eagle Superpipe has played host to the 2002 Winter Games in addition to multiple Grand Prix and Olympic Qualifying events. If you're looking for a more mellow transition based experience, make your way over to the 13' Minipipe.
Previous tab
Previous tab
Smart Style Freestyle Terrain
Terrain Park Safety
The National Ski Areas Association and Burton Snowboards have developed the Smart Style Freestyle Terrain Safety initiative, a cooperative effort to continue the proper use and progression of freestyle terrain at mountain resorts, while also delivering a unified message that is clear, concise, and effective.
Freestyle Terrain may contain jumps, hits, ramps, banks, fun boxes, jibs, rails, half pipes, quarter pipes, snowcross, bump terrain, and other constructed or natural terrain features. PRIOR to using Freestyle Terrain, you are responsible for familiarizing yourself with Freestyle Terrain and obeying all instructions, warnings and signs. Freestyle skills require maintaining control on the ground, and in the air.
Freestyle terrain may include half pipes, as well as terrain parks and terrain features. They are provided for your enjoyment and offer adventure, challenge, and fun. However, freestyle terrain use, like all skiing and riding, exposes you to the risk of serious injury. Prior to using freestyle terrain, it is your responsibility to familiarize yourself with all instructions and warnings and to follow Your Responsibility Code.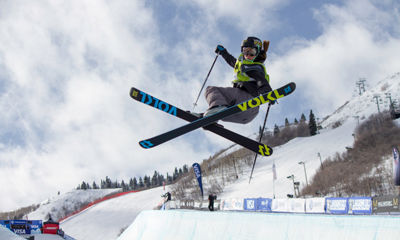 YOUR RESPONSIBILITY CODE
Freestyle Terrain contains man-made and natural terrain variations
Freestyle Terrain changes constantly due to weather and use
Inspect Freestyle Terrain before using and throughout the day
In jumping and using this terrain, you assume the risk of serious injury
Be courteous and respect others
One user on a Terrain feature at a time
Never jump blindly - use a spotter when necessary. Look Before You Leap!
It is your responsibility to control your body on the ground and in the air
Always clear the landing area quickly
Always ride or ski in control and within your ability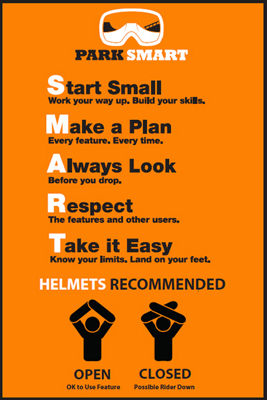 The Four Main Points of
Smart Style
Make A Plan
Every time you use Freestyle Terrain, make a plan for each feature you want to use
Your speed, approach, and takeoff will directly affect your maneuver and landing
Look Before You Leap
Before getting into freestyle terrain observe all signage and warnings
Scope around the jumps first not over them
Use your first run as a warm-up run and to familiarize yourself with the terrain
Be aware that the features change constantly due to weather, usage, grooming, and time of day
Do not jump blindly and use a spotter when necessary
Easy Style It
Know your limits and ski/ride within your ability level
Look for small progression parks or features to begin with and work your way up
Freestyle skills require maintaining control on the ground and in the air
Do not attempt any features unless you have sufficient ability and experience to do so safely
Inverted aerials increase your risk of injury and are not recommended
Respect Gets Respect
Respect the terrain and others
One person on a feature at a time
Wait your turn and call your start
Always clear the landing area quickly
Respect all signs and stay off closed terrain and features
Little Kings
First time ever riding a terrain park? Head to Little Kings park off of the bonanza chair, just below Jonesys.
There you will find a selection of small and extra small jumps, boxes, rollers, and berm turns.
This is the perfect location to take flight for the first time, learn a new trick, or brush up on an old move.
Don't forget to take the Blaster Adventure Trail on your way there.
Access: Bonanza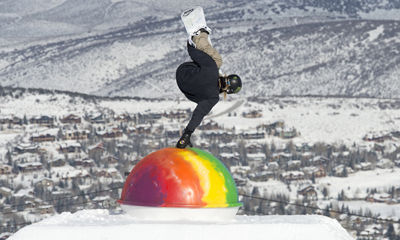 Pick Axe
A park inspired by our mining heritage, Pick Axe offers true medium jumps, rails, and boxes to create a friendly environment aimed at progression.

Want a super lap?
Head down Gotcha Cut Off and catch 3 Kings park in the same run.
Access: King Con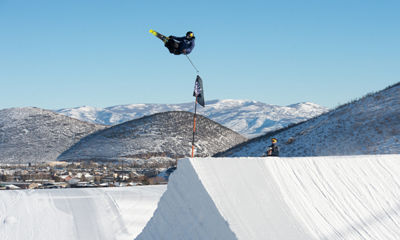 3 KINGS, PICK N SHOVEL, & EAGLE SUPERPIPE
TRIPLE PARK ZONE
Our flagship park zone, 3 Kings. 4 trails all converging into one premier freestyle experience. Our 3 medium park offerings in the zone give you the option of rails, jumps, or mini pipe transition and funnel into one highly acclaimed rail garden before returning you directly to the lift.
If you are feeling especially brave, check out Pick n Shovel terrain park where we provide an array of large jumps and jibs for the highest caliber riders.
Not much of a jibber or a jumper?
Eagle superpipe runs adjacent to Pick n Shovel for the more transition inclined.
Access: 3 Kings, Eagle (Via Gotcha Cut-off)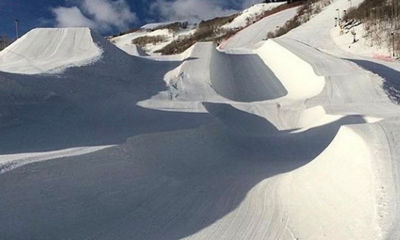 Eagle Superpipe
Not for the feint of heart, Eagle Superpipe is a 22' halfpipe running over 550' in length, all to competition spec and immaculately maintained. Do you have Olympic ambitions?
This is the pipe to vault you to superstardom. Home of the 2002 Olympic Winter Games, the FIS World Championships, numerous Grand Prix events, and countless other ski and snowboard freestyle events. The Eagle Superpipe is no joke.
Enjoy the sense of arrival in the First Time parking lot at PC Base, where it is fully visible adjacent to our Race Arena and accessed via 3 Kings chair and the Pick n Shovel Terrain Park.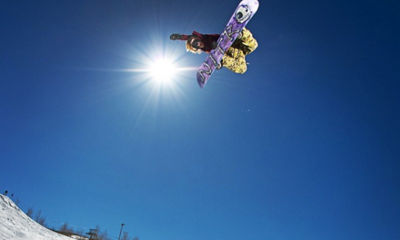 MINI PIPE
Less interested in competitive glory, and more interested in dialing in your low consequence alley oops and hand plants?
Our 13' mini pipe in the 3 Kings park provides ample opportunity to develop a sense for transition riding, or a welcome respite from the jibs and jumps littered throughout the same zone. Keep an eye out as this pipe has an identity crisis and is liable to undergo multiple transformations throughout the season, allowing for bends, rolls, jibs.