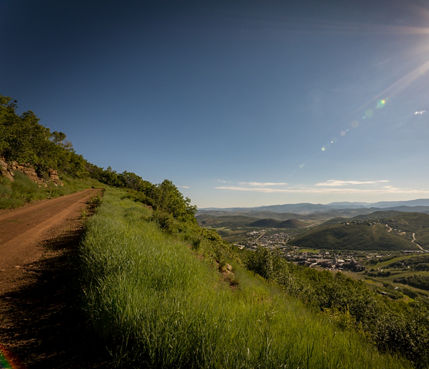 Off-road jeep tours are a popular way to explore the spectacular natural landscapes of Utah. Throughout the state, designated trails are open to off-highway vehicles such as Jeeps, ATVs, and UTVs. Visitors to Park City will find local options for 4WD and ATV Tours, with places to rent ATVs and UTVs and guided jeep tours that venture into the backcountry of Wasatch Mountain State Park and the vast Uinta-Wasatch-Cache National Forest.

You can rent vehicles for self-guided ATV and Jeep tours in Park City to get out and explore the rugged, scenic backcountry trails. Choose a guided tour if you don't want to figure out trail options, navigation, and other logistics. All-inclusive packages provide you with instruction on vehicle operation and safety from an expert guide, who will lead you along trails suited to your skill level.

The hub for Park City ATV tours is in Midway, about 30 to 40 minutes from the resort. You can arrange vehicle rentals for self-guided tours near Park City Mountain Resort.


Park City ATV Tours
Visitors have several choices for ATV, UTV, and Jeep tours in Park City, UT. The first decision is whether to book a guided tour or rent vehicles for self-guided adventures. Most local companies hosting guided tours also offer rentals, while a handful specialize in rentals only.
Guided tours take place at various backcountry destinations across the region, so consider any location preferences you have. Other factors to consider are vehicle options, age restrictions, tour length, and pricing. Booking as far out as possible for ATV tours is always best. When making the reservation, the tour company should give you a complete list covering clothing and footwear recommendations, check-in times, procedures, and more.
Resort guests can consider the following adventure companies offering ATV tours near Park City.
Wasatch Excursions
Wasatch Excursions
operates in Wasatch Mountain State Park through a special permit. This allows the company to offer guided ATV and UTV tours across the park's 22,000 acres of unspoiled landscapes.
These two-hour tours traverse 25 to 30 miles of rough dirt trails, covering a range of elevations as you approach the mountain summit. Expect the splashy fun of water crossings, the cool shade of the aspen forest, and possible wildlife sightings, including eagles, bears, elk, and moose. Experienced guides will lead you to some of the best photo spots in the park.
These guided tours are family-friendly and don't require ATV and UTV experience. They depart three times daily, generally from early May to late October. Choose a single-rider ATV or a UTV for two, four, or six people per vehicle, and plan to meet at the Cascade Springs OHV trailhead in Midway.
Wasatch Excursions also offers vehicle rentals for self-guided UTV and ATV tours near Park City. Rental agreements give you access to over 60 miles of state park trails. You'll receive a trail map and can discuss trail choices with a guide before departing for your DIY adventure.
Tracked Out Adventures and Trails
Tracked Out Adventures and Trails
specializes in backcountry tours around Park City by ATV, UTV, dirt bike, and snowmobile. The company's family-friendly tours traverse national forest land in the Uinta Mountains. This is deep backcountry and forest terrain, with rugged, rocky trails, creek crossings, stunning lakes and waterfalls, and sweeping mountain panoramas. Your guide will choose a location based on the group's skill level, among other factors.
Tours last for five hours and are available daily throughout the summer. Two- and four-passenger machines are available, and drivers must be 18 or older. Vehicles come with a two-way radio headset, so your group and guide can communicate easily throughout the tour. The system is also Bluetooth equipped, allowing you to listen to your favorite music as you drive. Bring plenty of water and your lunch or snacks, or request a lunch add-on with your booking.
Wasatch Adventure Guides
Park City-based
Wasatch Adventure Guides
offers a wide range of outdoor adventures year-round. Their guides are all experienced locals with deep knowledge of the off-roading trails in the Wasatch and Uinta Mountains. With this company, expect to explore the aspen forests, meadows, and mountain vistas around Park City on a guided or unguided ATV/UTV tour. You can choose two- or three-hour guided tours or four- or eight-hour rentals for unguided tours. Machines are available with one, two, four, or six seats.
Plan to meet in Midway to start your guided ATV tour. Transportation to Midway from Park City might be available, so call for up-to-date details. Bring water and snacks.
Midway Adventure Co.
For guided and self-guided ATV tours near Park City, consider the options available through
Midway Adventure Co.
Guided ATV/Razor Safaris take place in Wasatch Mountain State Park, where you'll explore mountain slopes, forests, and meadows.
Start the two-hour tour with a check-in at the company's Midway HQ, followed by a thorough instruction session. No experience is necessary. Vehicle options are for a single driver or a driver with one passenger, and anyone under 16 must ride with an adult. Tours depart three times daily and are typically available from June through October, weather permitting.
Self-guided tours are another option with Midway Adventure Co. Their machine rentals are available for two hours, four hours, or a full day, generally from April to mid-November. Helmets and trail maps come with each rental, with a cooler attached to the vehicle. You may drive directly from the Midway HQ, through the town, to get to the trail complex at Wasatch Mountain State Park.
ATV Rentals Utah
ATV Rentals Utah
has multiple locations across Utah offering full-service rentals of ATVs and UTVs. The closest places to Park City Mountain Resort are Midway, Heber City (24 miles from the resort), and Sundance (about 40 miles away). Their lineup includes ATVs and UTVs for two, four, five, and six people. Private, custom-guided tours are also available near Park City — contact the company for details.
Self-Guided Jeep Tours in Park City, Utah
While guided tours are widely available around southern and eastern Utah's national parks, Jeep tours in Park City, UT, are typically self-guided adventures. Unless you have a Jeep or similar four-wheel-drive vehicle that can handle the off-road trails, you'll need to book a vehicle rental locally.
Park City-based
Epic Jeep Rentals
offers daily and multi-day rentals of new, five-seat Jeep Wranglers. All their vehicles have four-wheel drive, automatic transmission, upgraded suspension, and all-terrain tires, making them ideal for off-roading adventures.
Epic Jeep Rentals will deliver your Jeep to the airport or any Park City location for a fee. Otherwise, arrange the pick up (by appointment only) at their Park City office. Mileage is unlimited with Park City Jeep tours, so you can venture as far across the state as you want for endless off-roading fun.
Experience the Adventure of an ATV Tour in Park City
With a home base at
Park City Mountain Resort
, you're minutes from the beautiful backcountry, where endless off-roading trails await.
While planning your Jeep or ATV tours in Park City, don't forget to check out all the other
summer activities
at Park City Mountain Resort.