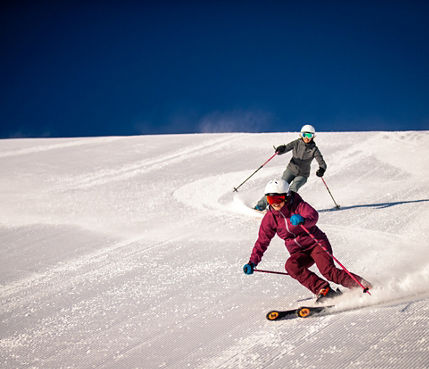 The winter season is a great time to get friends and family together for some ski time fun. Hone your skiing skills at Park City Mountain, the biggest ski resort in the United States. Park City Mountain Resorts boasts 7,300 acres of skiable terrain, with many designated green runs for beginner skiers.
There are twenty-seven trails to ski and ride as a beginner, and with ski instructors to help you build your form and technique; Park City Mountain is an excellent place for beginner skiers to learn. Most beginner trails are on the Canyon's side of the resort, so if you're a looking for green runs, you may want to consider this side as your starting point.

Take your pick from the following ski runs and experience some of the best Park City skiing for beginners.

First Time

Aptly named, the First Time trail is a great starting slope for first-time skiers. The slope is more of a bunny hill that allows skiers to practice their technique and get a feel for the alpine environment. Take the First Time lift at the mountain's base and strap on your gear as you meet other beginner skiers on this slope.

This is one of the most beginner-friendly ski runs at Park City, which is a good spot for those who have never tried skiing before. The gentle slope makes for an excellent area to practice basic skiing skills such as turns and proper pole position. People of all ages will enjoy learning fundamental skiing skills on the First Time slope. Once you feel more confident in your gear, hop on the chair lifts that will take you to more beginner-friendly ski runs at Park City.

Home Run

Another one on the list of beginner-friendly ski runs at Park City is the Home Run trail. Spanning a distance of 3.5 miles, it is one of the longest green trails in the state. Get on Town Lift from Park City Main Street and ascend to this expansive stretch of beginner-friendly skiing trail. You can alternatively take Pay Day Express chairlift if you're coming from the base and then take Bonanza.

Once you reach Summit House, follow signs leading to Home Run. On a good day, you will expect to see many beginner skiers trying their techniques on this slope. The long slope opens to a broad run with a great view of the Alpine mountains.

Raptor Way

Raptor Way is a great bunny slope that you can access by taking the Sunrise Lift to Red Pine Gondola and the Orange Bubble Express. This is one of the highly recommended beginner ski runs at Park City, where you can confidently practice your technique in a safe environment.

The easy slopes and the fairly even surface make it easy for you to learn how to perfect your form. Raptor Way can become a bit congested throughout the day as it also serves as a connecting point for other major slopes.

High Meadow Park

High Meadow Park is a new addition to the growing list of beginner-friendly ski runs at Park City. This area debuted to the public in the winter of 2018 and boasted of the ultimate learning terrain for new skiers. High Meadow Park is located on the Canyon's side of the mountain and can be accessed through a new high-speed four-passenger lift.

The area is excellent for all ski levels as it has an integrated Adventure Alley where skiers can safely experience an off-trail experience. High Meadow Park allows beginner skiers to traverse the terrain as they grow in skill and prepare to graduate from green to blue slopes.

Claim Jumper

Indulge in the skiing experience as you traverse the well-maintained trails of Claim Jumper. Visitors can access this green slope by getting off at Bonanza, a favorite spot for beginner skiers. The trail is beginner-friendly and gives you a great view of the surrounding Alpine terrain. The trails are easy to navigate and generally shorter compared to other green trails on the list.

The shortness of the course allows you to quickly familiarize yourself with the terrain and gain the confidence you need as you practice your technique as you do pizzas and French fries alongside other beginner skiers.

Blanche

If you feel ready to progress to the next level, head over to Blanche. This area is located on the east end of Home Run. The Blanche terrain is one of the beginner-friendly ski runs at Park City that can prepare you for an intermediate course.

This is a favorite spot for beginners who want to advance their skills but need more time to be ready to take on a blue trail.

King Con Express

Take the King Con lift with the entire crew and practice your turns together. The high-speed chairlift comfortably seats up to six passengers at a time. Skiing on this slope takes some skill, so you will want to build up your skiing technique on other slopes before you take on this terrain. Skiing on this slope will reward you with spectacular views and a slope you can ski for hours.

Is Park City Beginner-friendly?

There are over three hundred trails to explore in Park City, with many green trails for new skiers. Park City is excellent for beginners who have just strapped on their first pair of skis. With a sprawling area of more than 7,000 acres, Park City has something to offer for skiers of all experience levels.

Park City also has a dedicated Ski and Snowboard School where you can get the formal training to ski or snowboard confidently and build your form and technique. Even if you're an experienced skier, the beginner trails in Park City will help you practice your turns and will reward you with spectacular views of the snow-capped mountains.