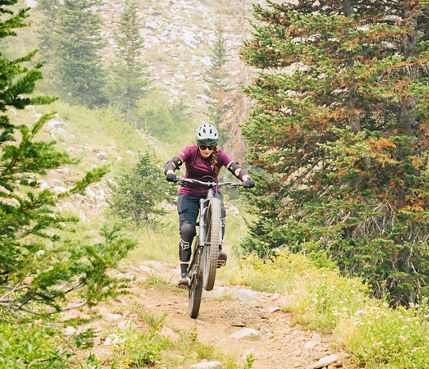 Anyone looking for the best mountain biking in Utah will find it in and around Park City. The Park City Mountain Resort isn't just for skiing. In the summer months, this area turns into one of the prime Utah mountain biking destinations.

With multiple trails covering every difficulty level, Park City mountain biking can be a great way to escape it all. Enjoy nature while you fly down the mountain. Many trails can be started at the top thanks to the lifts, so you only need to worry about getting yourself back down.


Rent a Bike at Park City


Not everyone brings their bikes to the resort with them. No need to worry because you can rent high quality bikes for every type of riding from the Park City Mountain Resort bike rentals They provide bike rentals for all ages, interests and abilities, and best of all there are locations near your lodging, the lift, or in the village. Book your bike online and select your preferred location. Booking online is recommended and saves you up to 20%, along with access to top notch gear that is tuned and ready to go.
Downhill: You'll find everything from demo, standard, and premium downhill bikes. Test them out and see which performance level works best for you. They're all suitable for the downhill trails around Park City and can be used easily in bike parks, too.
Trail: Want to hit the mountain biking trails? You'll want a trail bike. These come in standard, kids' styles, and e-bikes.
Path: For those who plan to ride in town or stick to paved areas and smoother trails, a path bike is all you need. There are adult and children's versions available, as well as e-bikes.

Renting a bike in Park City is a great option for visitors who fly in and don't have their bikes. The mountain offers plenty of great options for exploring, so rent a bike and get out there.
Mountain Biking at Park City Mountain Resort
Park City Mountain Resort is a premier mountain biking destination and offers lift-served mountain bike haul access by the day or for the summer season. You'll find a multitude of trails for all levels of mountain biking. If you plan to spend more time at the bike park, consider looking into the
day and season passes
to make the most of the best mountain biking in Utah.
Explore Park City Mountain's Best Bike Trails
Park City Mountain offers incredible scenery during the summer months, and the best way to see it is via mountain biking. To help you get started on planning your vacation, here are the best mountain biking trails on at Park City mountain, rated by difficulty.
Beginner Mountain Bike Trails
These Park City bike trails are comfortable yet scenic for beginners and more careful riders.
Silver Spur – Easy
This trail is fairly low, next to town. It's also used for hiking, so you do need to be careful of foot traffic. It's fun and low impact. At just over half a mile, you can take your time enjoying the sights. The Silver Spur Trail is located below the Crescent Lift. It's also the trail that leads to Spiro and Armstrong.

Tommy's Two Step – Easy - Medium

One of the few uphill-only Park City biking trails, Tommy's runs a mile and a half and rises 450 feet. While it's considered medium difficulty, you should be able to ride it if you're a confident beginner.

Keetley - Easy

Just 23 minutes from Park City Resort, you'll find Jordanelle State Park. Keetley is a bike trail in this park that offers a fairly easy ride through the natural beauty of the area. This is a good group trip if you have varying expert levels.
Intermediate Mountain Biking Trails

For the more adventurous, medium difficulty is a good place to test yourself and try out more exciting trails. These trails are among the best mountain biking in Utah, so don't miss out.
Crescent Mine Grade – Medium Difficulty

The Crescent Mine Grade Trail is a truly beautiful place for mountain biking. In several areas, you'll see wildflowers, stunning views, and even the alpine coaster. Remember that the nearly 4-mile long trail is only downhill below Jenni's Trail; above that, you can head up or down on a bike or foot.

Reach the trail by riding up Jenni's. You can then continue up the Crescent Mine Grade trail.

Spiro – Medium Difficulty

For those who want more climbing experience, Spiro is the perfect trail. It's a sustained grade over multiple switchbacks. You'll enjoy some pretty fields, aspen groves, and interesting views.

You can access the three-mile trail from the Silver Spur trail at the village. It's recommended if you want some actual stretching on your bike.

Flying Dog Loop - Medium Difficulty

If you want to escape the resort crowds, head to Flying Dog Loop. It leads off the Park City area and provides a leisurely yet somewhat challenging pedal. Enjoy some airtime over the jumps that are placed along the trail.
Advanced Mountain Biking Trails

Anyone looking for a way to stretch themselves and really put their skills to the test will love these. The challenging trails can be rough but very exhilarating.
Eagle – Difficult

With a 14 percent grade, this trail is a bit of a challenge. Uphill, you'll be pushing yourself hard, and on the way down, the turns can be somewhat tight. The area has several cliffs and switchbacks, making for insane views. You should also be aware that it can get rather dry and dusty.

Park City Epic - Difficult

Are you seeking something a little more extensive? The Park City Epic Trail will give you more time on the trails and is off resort. It is considered the number one mountain biking trail in Park City. At just over 25 miles, it's a trail that will keep you busy.


Ready for the Best Mountain Biking in Utah?
Park City offers public trails totaling more than 450 miles of mountain biking and is renown destination. If you love mountain biking, Park City bike trails will have you returning for more. There's a reason people return year after year.
Ready to explore what Park City Mountain biking has to offer?
Book your adventure today
!