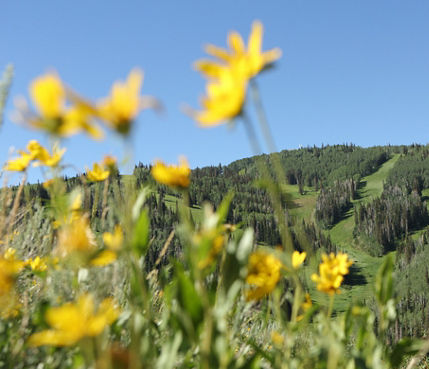 There are plenty of ways to dive into adventure near Park City Mountain Resort. Water sports are in plentiful supply in and around the resort thanks to the many state parks with gorgeous lakes, reservoirs, and rivers nearby.

Boating, paddle boarding, and rafting at these spots near Park City are great ways to make more of your summer vacation and experience the stunning national parks and waterways surrounding the resort.


Kayaking at Jordanelle Reservoir
Widely regarded as one of the best Park City kayaking spots,
Jordanelle
is a Park City marina in a stunning state park setting. In summer, the nearby slopes are dark green and spotted with patches of bright color from the many wildflowers that grow here throughout the season.
When you've had your fill of the view from the lakeside, consider
renting a kayak
and working your way across the magnificent reservoir. The sheer size of the lake here makes kayaking an excellent choice for those who either want a great workout or simply an alternative angle to take a look at the beautiful landscape.
Jordanelle Reservoir also offers standup paddle boarding, jet ski rental, and many types of boats, so there's always the chance to try something new.
Location
Jordanelle State Park is around 35 miles east of Salt Lake City and less than 10 miles from Park City Mountain Resort.
Booking Information
Utah State Parks run this marina and most booking and reservation information is via their
official website
. Private equipment rentals are handled by individual companies.
Boating at Deer Creek Reservoir
If you want to head a little further afield,
Deer Creek State Park
is home to Deer Creek Reservoir, a top water sports and boating destination for all outdoor thrill seekers. The reservoir here offers facilities for swimming, paddleboarding, windsurfing, and boating, as well as fishing and even zip lining.
Boating on the open water is possible throughout summer, with two primary boating ramps for easy launching. From late May onwards,
boat rentals
available include sports boats, performance boats, jet skis, SUP's, canoes and kayaks, giving you plenty of options to get out and play on the water.
The reservoir is also a great destination for Paddleboarding near Park City and a recommended Park City kayaking destination.
Location
The reservoir is just less than 24 miles from the main Park City resort, around 50 miles southeast of Salt Lake City. Deer Creek Reservoir has spectacular views of Mt. Timpanogos making it a top summer destination to tick off the bucket list.
Booking Information
There's plenty of information about summer activities on the
official State Park website
, and any rental queries should be addressed to the individual companies handling them.
Jet Skiing & Rentals
Rockport State Park is a recreational hub, with activities including archery, fishing, boating, and jet skiing. Jet ski rentals are plentiful here, so expect the lake to be very busy in summer with adrenaline seekers hitting the water.
Jet skiing is a great way to explore the roughly 5 miles of the lake here, especially if you're only visiting for the afternoon and short on time. Experienced riders can talk to their rental company about towing a tube or a water skier behind!
As well as jet skis, visitors can try wakeboarding, paddle boarding, and various other watersports to stay active while enjoying the scenery. The surrounding park is 770 acres big, so you can easily spend a full day here and not see it all.
Location
Rockport is just under 40 miles due east of Salt Lake City and only 15 miles northeast of Park City Mountain Resort. Visitors should note that the park closes overnight, so
visit the website
to check the seasonal opening hours.
Booking Information
Park City jet ski rental is possible via several private companies, many touting themselves as "official," so the best plan is to look at some online reviews and compare prices before making your choice. Plenty of these companies also offer ATV and boat rental, giving guests plenty of ways to explore the lake.
River Tubing and Rafting
Tubing and rafting the Provo River offers a scenic and relaxing float experience. The most popular option for a tubing float near Park City is on the Provo River, starting just below the Deer Creek Reservoir and taking out at Vivian Park. Self-guided tubers can typically expect a more casual float but should be prepared for colder water temperatures. Unguided parties would need to have their own gear and shuttles along with the proper safety equipment and knowledge. Tubing and raft rentals can be found from outfitters in the area, including
BYU Unlimited
in Provo and
High-Country Adventure
who offer pick up and drop off options near Park City.
Guided River Trips
Guided river tubing and rafting trips are available and are a popular choice to experience rafting near Park City. These include:
A full Provo River tubing experience from High Country Adventures including transport shuttles and equipment, with a private takeout area at Vivian Park.
Exclusive Excursions runs private trips from Vivian Park for a more challenging whitewater class I-II adventure on rafts or kayaks.
Provo Canyon Outfitters has tubes for rent and provides helpful planning advice for a raft trip along the Provo River to Vivian Park.
Location

Tubing adventures start along the Provo River, usually starting from Deer Creek State Park, about 45 minutes from Park City.

Booking Information

Check online for prices and booking information from one of the guided options. Tubing is usually available May through September, and wetsuits are available to rent—essential as the water is always chilly!




Enjoy Boating and River Tubing Adventures at Park City, Utah
Park City Mountain Resort loves the summer months, and the opportunities for rafting or paddle boarding near park city are just a couple of the reasons why. Other
summer activities
include Utah's largest
mountain coaster
,
biking
, and the classic
Alpine slide
. Expand your summer thrill-seeking by heading off the resort and exploring the many water sports options available, then unwind later in the resort villages or
spa
.
Utah State Parks all have entrance fees, so be sure to check ahead. If you want more information on boating near Park City and other summer fun, speak to the experts at the resort or start booking your summer adventure
here
.