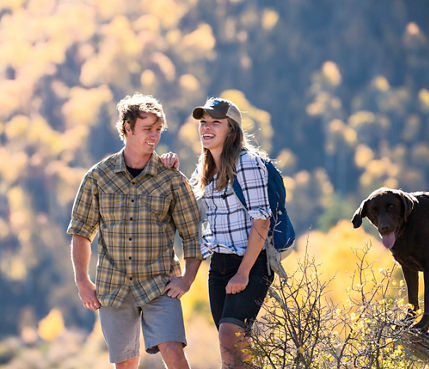 Do you have a hard time saying goodbye to your favorite furry friend when you go on vacation? Or even worse, have you been stuck paying pricey overnight fees for a boarding kennel on top of the heartache? Look no further for your next Park City dog-friendly hotels, restaurants, and hikes with "Spot."
Dog-Friendly Hotels in Park City
Lodging is the most basic necessity of vacationing, and thankfully, there are options for your stay in Park City that are dog-friendly. This way, you have the freedom to choose your lodging to accommodate both you and your fur baby on your stay.
Westgate Park City Resort and Spa
Westgate Park City
is the only resort in the Park City area that offers a complimentary, on-call shuttle to the popular downtown areas. You may bring up to two dogs, and the maximum weight is 60 pounds total for both. Some breed restrictions are in place to prevent potentially aggressive dogs from entering, assuring the safety of guests and other pups.
Hyatt Place Park City
At this
pet-friendly hotel
, you'll find a complimentary bone for your pup in the mini-fridge upon your arrival. The Hyatt Place is a modern pet owner's dream location, with completely updated features to ensure that all visitors are allergy-free during their stay. They allow up to two dogs with a maximum combined weight of 75 pounds or 50 pounds for one.
Park City Peaks Hotel
Park City Peaks
has attractive amenities for humans, but this hotel is another amazing pet-friendly choice. There are a limited number of pet-friendly rooms available, and they tend to fill up fast. The combined weight limit for dogs is 85 pounds, with a maximum of two dogs per room.
Dog-Friendly Restaurants in Park City
There are a plethora of options when it comes to dog-friendly restaurants in Park City, most of which have a dog-friendly patio to sit outdoors while maintaining an indoor space for other guests. Here are a few
Park City dog-friendly restaurants
where you can enjoy a bite to eat or a cup of joe with your pup.
Silver Star Cafe
This restaurant, with a dog-friendly patio, provides a water bowl for your pup along with complementary water for all guests. You can book reservations online for the Silver Star Cafe to plan ahead if you have a large party. You can also just walk up and order. This Park City dog-friendly restaurant was featured on the Food Network three times.
Hugo Coffee Roasters
If you want to bring your pup with you for a quick cup of coffee, the baristas top your drink with a paw print on the latte art. This shop's mission is inspiring as well.
Hugo Coffee Roasters
donates proceeds from their roasted beans to facilities that help with adoptions, rescuing, and providing resources for animals in need. They have amazing hearts and coffee for you to enjoy.
Flanagan's on Main
Everyone is at home here. Flanagan's offers dog-friendly patio seating at this highly-rated Park City
Irish Pub & Restaurant
. Their menu is full of traditional Irish cuisine, comfort food, and beer to make you feel right at home with your dog. The patio is covered, but it's always recommended to check the weather before you leave so you and your pup don't get caught in the rain.
Dog-Friendly Hikes in Park City
Although not all trails are dog-friendly, there are plenty of Park City dog-friendly hikes where your pet is welcome on a leash, and some offer off-leash adventures.
Off-Leash Adventures
One of the most fun off leash areas for your pup is the
Run-a-Muk dog park and trail
on the way to Utah Olympic Park. This dog-friendly hike through the hills and past ski jumps leads to a 40-acre off-leash area where your dogs can roam and socialize with other four-legged friends. The off-leash area at the end of the journey will give you and your pup enough exhilarating fun to keep exploring all the beauty the Park City area has to offer.
On-Leash Hikes
The
Bonanza Flat Conservation Area
is full of trails that welcome on-leash pups, starting at the Bloods Lake Trail. Go toward the Lackawaxen Lake Trail to visit a dog-friendly water area off the second trail for your dog to splash around, as the lake itself does not allow dogs. The trail is a little bit rocky, so keep that in mind if your dog is older or more sensitive to changes in terrain. Be sure to check trail and weather conditions prior to your hike, and always bring doggie bags, towels, and ample water (for you and your fur baby).
Other Dog-Friendly Reminders
Make sure that you and your dog respect nature and the facilities you're staying at. Bring doggie bags to pick up after your dogs, bring convenient containers for food and water, and have your leash on hand at all times. It's always better to be safe than sorry, so ensure you have whatever resources on hand that you or your pup might need.
Keep in mind that dogs are not allowed on any of the lifts or gondolas at
Park City Mountain
. This is to ensure the safety of your pups and all other visitors.
Vacation with Your Pup in Park City, Utah
With fabulous dog-friendly hotels, restaurants, and hikes, there is no reason to leave your pup at home on your next vacation to Park City. Whether you love to stay indoors and enjoy your hotel, go grab a cup of coffee in the morning, or hike from sun up to sun down, your dog can be right by your side as you explore the beautiful Park City area.
Book your vacation in Park City
today to experience the mountain of endless possibilities.