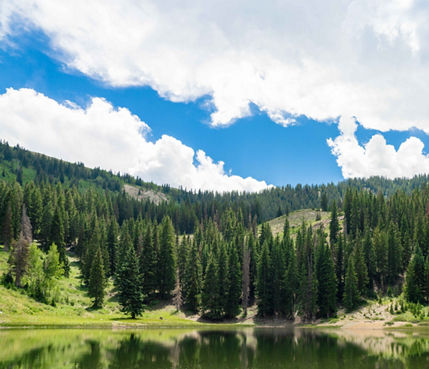 When you talk to winter sports enthusiasts about Park City, Utah, they'll immediately mention the world-class skiing and snowboarding. But once the snow melts, anglers flock to the area for some summer fun, making fly fishing near Park City one of the most popular activities. The Provo River, Weber River, and Strawberry Reservoir are all popular fishing spots, and the many Park City fly fishing guides and shops can help visitors get started with all they need.

Whether solo fly fishing or on an adventure with an experienced guide, you'll want to know the best destinations for fly fishing near Park City, Utah. Dive in and explore the best spots and top-rated guides for an unforgettable Park City fly fishing adventure!

Lower Provo River

The Lower Provo River winds 20 miles through Provo Canyon to Utah Lake. It's one of the finest trout fishing streams in the Park City area. Brown trout are plentiful and found in many parts of the river — unlike the mountain whitefish, which typically feeds at the bottom.

Access points to the Lower Provo River can be found along Highway 89, but to get the most out of your fishing adventure, head to Deer Creek and the Olmstead Diversion Dam. There are no artificial restrictions for fishing on the Lower Provo River. Therefore, the general fishing rules apply. Bait fishing is allowed, and anglers can keep four trout of any size they desire.

Weber River

The Weber River begins northwest of the Uinta Mountains and flows toward Lake City. The Weber offers diverse fishing opportunities with its numerous small tributaries. It is also home to a variety of fish species, including the Bonneville Cutthroat, mountain whitefish, and stocked rainbow trout, all found in different sections of the river.

One of its major access points is located along the east-west highway, Interstate 84 (I-84), a popular fishing zone for big brown trout. The tailwater below Rockport Lake and the Echo Reservoir also provides excellent fly fish opportunities due to their healthy trout population. However, much of this river flows through privately owned waters. Be careful when choosing fishing points to avoid being charged with trespassing.

The abundance of trout at the Weber River makes it great for Park City fly fishing throughout the year. However, summer offers the best opportunities, especially for dry fishing, due to the abundance of hoppers and carpets of caddis flies.

Strawberry Reservoir

The Strawberry Reservoir is situated within the Uinta-Wasatch-Cache National Forest, just over an hour from Park City. It's a popular spot for anglers due to plentiful rainbow trout, cutthroat trout, and the kokanee salmon, a type of sockeye salmon also called kokanee trout.

Fishing strategies at Strawberry Reservoir depend on the season. If you're a boat fisher, summer is the best time to visit the reservoir. The surface warmth of the water pushes the fish deeper to cooler temperatures, making boats necessary for productive fishing experiences. Spring and Fall, however, are excellent for bank anglers as the fish move closer to the cooler surfaces.

There are, however, strict fishing restrictions here, which must be adhered to. The regulations regard the release, possession, and quantity of cutthroats anglers can keep. You're not allowed to possess cutthroat trout measuring 15 to 22 inches, regardless of their health, and releasing them is mandatory. You're also limited to four trout or kokanee salmon combined. It's essential to comply with these restrictions to protect the fishery and ensure its future sustainability. Moreover, these regulations help maintain a healthy population of fish.


Park City Fly Fishing Guides and Shops
Regardless of your skill level, you'll need a local fishing guide if you're visiting Park City for the first time. If you're a local resident, then you'll be well off. But you'll still need fishing equipment and bait. That's why we've prepared a list of Park City fishing guides and shops to ensure everyone can enjoy the best fly fishing in Utah. These are some of the top-rated fly fishing guides in Park City.
Park City Fly Fishing Guides
Park City Fly Fishing Guides
takes the utmost pride in providing their guests with the best fly fishing experiences. They offer half and full-day trips, and their guides can handle multiple anglers.
You won't need to carry any fishing gear, as they are provided during the trip. These include waders, indicators, terminal tackles, high-quality rods, boots, and flies. Once you've booked your trip online to the areas they operate, call to confirm your trip details.
Park City on the Fly
Park City on the Fly
is committed to making sure its customers have the trip of a lifetime. It's a locally owned fishing guide service that has provided Park City fly fishing guides since 2001, and that means they know their way around the water.
They offer transportation upon request, and their guides are experienced and knowledgeable about fish habits and the best spots for fly fishing. They also provide all gear, water, snacks, and fishing licenses,
Park City Fly Fishing Company
Whether you're a novice in fly fishing or experienced,
Park City Fly Fishing Company
guides are dedicated to helping you get the most out of your fishing adventure.
Their guides have over 40 years of experience guiding visitors in the Park City area. They are within a 30-minute drive of Park City and offer guiding services in various local rivers and lakes.
This fishing company offers both full-day and half-day trips. They supply all waders, boots, rods, reels, and flies, but you can bring your own if you'd like. You will, however, be responsible for buying a fishing license, which is required for fishing anywhere around Park City.
Plan Your Next Fly-Fishing Adventure
Now that you're up to speed on fly fishing near Park City, your summer trips will never be the same! Are you ready to cast your line and reel in the catch of a lifetime? Make
Park City Mountain Resort
your basecamp and immerse yourself in the city's scenic rivers and streams.