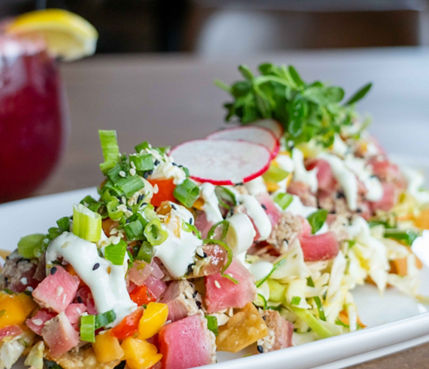 Welcome to Park City, Utah, home to the stunning Park City Mountain Resort and a delightful array of gluten-free dining options that cater to all taste preferences. Whether you're a gluten-sensitive traveler or simply looking to enjoy delicious, gluten-free Park City cuisine, this charming mountain town has you covered.

From cozy cafés and pizzerias to upscale restaurants, Park City's diverse range of dining experiences accommodate gluten-free diets, allowing you to savor the flavors of the region while maintaining your dietary preferences. Explore some of the best gluten-free dining options near Park City Resort and indulge in culinary delights while enjoying your mountain adventure.

Red Tail Grill

If you're looking for a slam-dunk meal that is sure to get you powered up for the day, look no further than the Red Tail Grill. The Red Tail Grill is one of the best options for a gluten-free breakfast. Located at the top of the Frostwood Gondola, the Red Tail Grill has an extensive menu for those with dietary restrictions. The restaurant has gluten-free breakfast choices such as huevos rancheros, large western omelets, and lighter fares like granola, berries, and yogurt.

There's no need to rush in for breakfast at the Red Tail Grill, as their lunch and dinner menus are among the more extensive gluten-free Park City menus you'll find. Roasted red hummus, garden vegetable soup, and Kalua pig bowls are some of the more popular gluten-free items found at the Red Tail Grill. Additionally, they have a variety of gluten-free options on their kid's menu.

The Farm

Another great option for the best gluten-free restaurants Park City offers is the wide selection of items found at The Farm. Located next to the Red Tail Grill between the Cabriolet and Frostwood Gondola's, the Farm is a bistro-style dining restaurant at the heart of Park City Resort. Featuring a rotating menu of highly seasonal local cuisine, The Farm includes gluten-free staple options such as beef tartare, shishito peppers, beets, and market fish and grits.

Along with gluten-free dinner options, The Farm also has plenty of choices on its lunch menu. Lighter plates such as winter lettuce and herbs and harvest Cobb salads stand alongside hearty bison chili and chicken wings. Their lunch full plate option is pan-seared trout with green lentils, Brussels sprouts, almond parsley pesto, and lemon yogurt.

Fuego Bistro & Pizzeria

If you've come to Park City in search of the best gluten-free pizza, then you'll find what you're looking for at Fuego Bistro and Pizzeria. Located just west of Park City Resort, close to downtown Park City, Fuego Bistro and Pizzeria offers a slate of gluten-free pizza options so everyone can have their favorite slice. Every pizza and pasta option at Fuego can be substituted with gluten-free bread and pasta noodles, making it the most extensive gluten-free pizzeria restaurant in the area.

While Fuego has classic pies like pepperoni and cheese, their more popular options are the Fuego Blanco with alfredo sauce and ricotta cheese and The Jupiter Pie with sundried tomatoes and fresh spinach. Additional menu items, such as the beef tenderloin and several salad options, are suitable for those with gluten restrictions as well.

Wasatch Brewery

Located south of the town lift, the Wasatch Brewery is the place to go if you're looking for gluten-free brewery options in Park City. Mountain West Ruby, Grandeur Peak Grapefruit, and Utah Cherry ciders can be found on tap here year-round for those looking for a beer substitute. If you're looking for something closer to a traditional beer, they also feature Discovery Amber Ale, Endeavor Double Ale, and Quest Triple in bottles.

The brewery also features a menu with different options, such as tuna tartare, a turkey mushroom burger, a roasted veggie sandwich, pizza options, steak, and salmon to satisfy everyone in your group. The extensive food menu, coupled with locally crafted brews, makes this gluten-free brewery one to plan for on your next Park City trip!

501 on Main

Another gluten-free Park City restaurant that is sure to fit everyone's dietary needs can be found at 501 on Main. About a 20-minute drive southwest of Park City Resort, 501 on Main features the most extensive gluten-free menu anywhere in Park City, Utah. There are so many gluten-free options on the menu at 501 on Main that it's almost easier to list what isn't gluten-free!

Diners can enjoy carefully crafted selections of pub fare, dinner entrees, or shareable plates at 501 on Main. A few of the most popular options at this restaurant include the Park City poutine, the roasted red beet salad, the Rocky Mountain bison burger, and the chicken Milanese. Whether you have gluten sensitivities or are just looking to try new foods, 501 on Main has everything you need for a delicious and filling meal.

Yuki Yama Sushi

Another great gluten-free restaurant in Park City with a full slate of options can be found at Yuki Yama Sushi. Located close to 501 on Main and the Wasatch Brewery, Yuki Yama Sushi is an upscale sushi restaurant in the heart of Park City. Like 501 on Main, Yuki Yama Sushi has an extensive gluten-free menu with plenty of options to delight every guest.

Gluten-free starters at Yuki Yama include a cucumber salad, miso soup, kimchi miso, or seaweed salad. Large gluten-free plates range from stuffed shishito mushrooms, lamb lollipops, black cod, and Wagyu beef tataki. All of the sushi at Yuki Yama is also gluten-free. The restaurant is open for dinner seven days a week, and you should make reservations ahead of time to ensure you get a seat at the table.

The Silver Star Café

Chef Derek Gherkins is responsible for revamping the menu at the Silver Star Café, and now, those with gluten-free diets can delight in the variety of options found on the new menu. From summer lunches and brunches to exquisite dinners, there are great choices all around at The Silver Star Café. Located at the top of Silver Star Lift, the café features gluten-free breakfast items such as shrimp and avocado benedict, banana bread French toast, and huevos rancheros. Lunch and dinner feature a wide variety of plates, like soups, salads, and sandwiches.


Park City's Culinary Scene: Something for Everyone!
Start planning your
Park City Resort
vacation today and know that Park City has plenty to offer in gluten-free dining. From upscale sushi and large plates to simple pizza and pasta, there's something for every diet that can be found in Park City. What are you waiting for? Book your vacation at Park City Resort today and find out why this is your mountain!