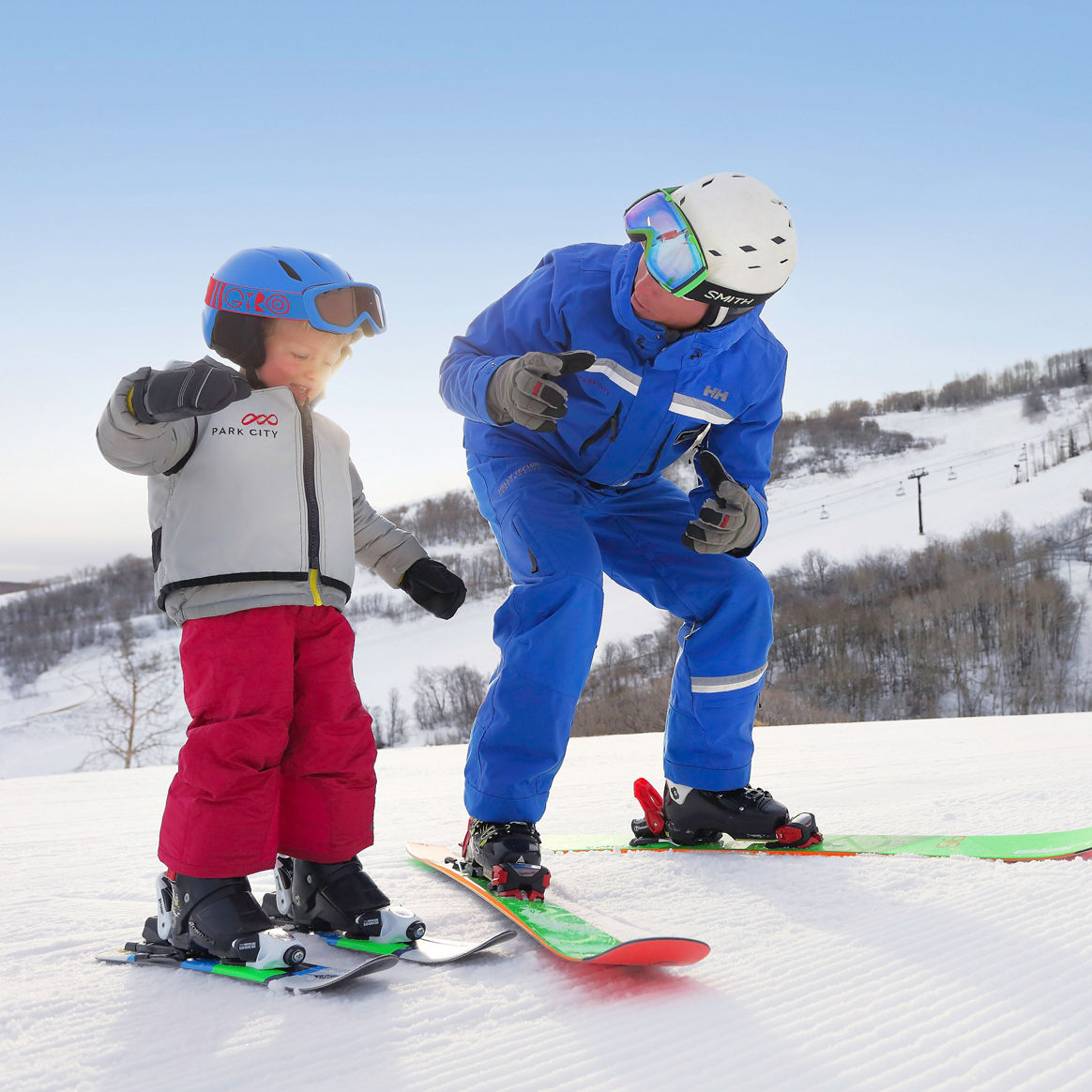 Is Park City a good place for beginners? Park City is a favorite vacation destination for millions of winter sports enthusiasts from around the world, and it is a great place to learn to ski. When you learn to ski at Park City, you'll train with some of the best professionals in the country and have lots of of options for beginner terrain to practice on.

Whether you've never been on a pair of skis in your life or love to experience the gnarliest schussing on the mountain, Park City offers a world of exciting possibilities for your next vacation.


Benefits of Learning to Ski at Park City

Located in Summit County, Utah, Park City is the ideal place to learn for those who are brand new to skiing or have only skied a couple of times. No matter what level you are, you can take one of the many available mountaintop classes and learn from a seasoned ski instructor.

Here are some of the benefits of learning to ski in Park City:

1. There are group classes or private instruction for skiers of all levels in Park City.

2. Park City's world-class instructors will focus on what you need to optimize your abilities. If it's your first day on skis, you'll likely be skiing in no time. And if you're more experienced, these instructors will help you hone your techniques and make you feel like a pro.

3. Absolute beginners will start on an easy slope that's perfect for new skiers. But if you've got some ski trips under your belt already, you'll learn on a slope that's appropriate for your skill set. Park City has a wide variety of ski terrains for every level.


Skiing Lessons for Every Level at Park City

Instructors in Park City can teach every level of skiing, from absolute beginner to professional circuit skier. Here's a look at some of Park City's training programs:

Adult Group Lessons: These lessons range from beginner to advanced. You can learn basic fundamentals, improve your intermediate skills or refine your pro techniques.

Private Lessons: You can get customized one-on-one training from a world-class instructor. Expert trainers will assess your goals, and help you improve your weaknesses and build upon your strengths.

Children's Lessons: Park City is known for its superlative children's ski schools, with instructors who are specially trained to teach kids how to ski. Your child can learn from a specialist in an atmosphere that's fun and educational.

Green Run Guarantee: Our Green Run Guarantee will have you learning to ski or snowboard a qualifying green run in three lessons, or your fourth lesson is free! Get ready for adventure and scenic views as you progress up the mountain!


Instructors that Make Learning to Ski or Snowboard Fun

Learning to ski or snowboard can be one of the most enjoyable things you'll ever experience. Park City instructors specialize in making lessons fun. Whether you're in a class full of like-minded enthusiasts or taking one-on-one lessons from a top pro skier or snowboarder, you'll discover a whole new love for the mountain. And while you're having the time of your life, you'll also be improving your skills and techniques.


Park City's Famous Snow Conditions

Park City is famous for having the "greatest snow on earth!" Its high altitude and cold, dry air combine to create snow that's low in moisture. This makes it exceptionally powdery, lightweight and fluffy. It's the "champagne snow" that skiers long for but don't always find — except in a few special locations.


Snow Gear Rentals and Sales

If you don't have any snow gear, you can rent it at Park City. You'll find an abundance of rental shops where you can rent skiing, snowboarding and snowshoeing equipment for yourself and your family. In addition, you can purchase whatever you need at one of the many local snow gear retailers.


Après-ski Dining and Fun

Park City is a destination location for après-ski and nighttime entertainment. And it's open to everyone, not just skiers and sports recreationists. Here are three of Park City's most popular après-ski venues:

Red Tail Grill: Ideal for social gatherings and family-friendly fun, Red Tail Grill is open for breakfast, lunch and dinner. It boasts a lively après-ski scene, made even more memorable by breathtaking mountain views.

Umbrella Bar: The ultimate après-ski beer bar, Umbrella Bar offers incredible views from its cozy glass enclosure and outdoor deck. It also provides a great view of the village music stage, where you can enjoy a regular schedule of live entertainment.

The Farm: At The Farm in Canyons Village, you can take advantage of après-ski food and drink specials, as well as lunch and dinner, in a warm, inviting lounge atmosphere.
Legends Bar and Grill: Legends Bar and Grill in Mountain Village is a great place to take the whole family. Enjoy a gastropub-inspired menu and full-service bar for a complete apres-ski experience.


Convenient Hotels and Lodging

Park City has a wide variety of hotels and lodges to choose from. Many of these accommodations hold a distinct charm, personality and ambience all their own, as you can see from these three examples:

Grand Summit: Grand Summit offers a luxury hotel experience within a dramatic ski setting. Amenities include a heated pool, hot tubs, a fitness center, spa treatments and close access to the lifts.

Sundial Lodge: Nestled just a few steps from the slopes, Sundial Lodge provides a classic ski resort experience. Amenities include an outdoor heated pool, rooftop hot tub, fitness room, steam room and sauna. Proximity to the lifts is also a plus.

Lift Park City: Close to the lifts, as well as the shops and restaurants in Canyons Village, Lift Park City comprises a variety of elegant, contemporary living spaces that range from hotel rooms to five-bedroom residences. A spacious pool and deck, fully equipped fitness center, club room and children's play area are some of the amenities on offer.

As the largest ski resort in the United States, Park City is as great for beginners as it is for intermediate and pro-level skiers. Be sure to visit ParkCityMountain.com to find out about all the sports, restaurants and night life that Park City has to offer.