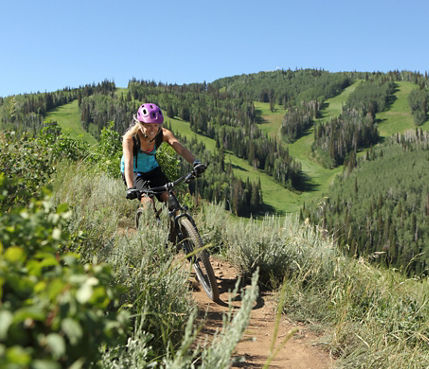 If you thought ski resorts were just for winter, think again! There are many exciting things to do in Park City in the summer. Whether you're looking for thrilling adventure rides, leisurely hiking or biking, or honing your skills during a round of golf, there are plenty of Park City summer activities for everyone! Let's explore where to go and what to do in Park City in the summer.

The Park City Summer Concert Series and Farm-to-Table Dinner

Summer in Park City means there's no shortage of good music and good food to go around with the return of the Park City Summer Concert Series and farm-to-table dining event. Starting in June, guests of Park City can stop by the Canyons Village Stage to enjoy free live music shows on select evenings throughout the season..

If you're looking for something more relaxed, the Park City Savor the Summit dining event is food lovers favorite. Many restaurants in and around Park City participate in the annual gathering, which will be held al fresco on historic Main Street. To attend the dinner, you must make reservations with one of the many participating restaurants by calling, as they do not have an online reservation system.

Park City's Farmer's and Silly Sunday Markets

Every Wednesday from June through October, you'll find the Park City Farmer's Market at the Canyons parking lot. Shoppers can explore bespoke shops from local artisans to fresh fruits and produce from nearby farms and other vendors. The market is small but features a wide assortment of goods.

The Park City Silly Sunday Market is another great thing to do in Park City in the summer. The premier market on historic Main Street, the Silly Sunday Market, is a non-profit organization that serves the greater Park City community. Visitors can find unique goods such as handmade crafts, artwork from local artists, music and performance artists. The market only takes place on select Sundays during the summer.

Hiking and Biking in Park City

Park City in the summer offers breathtaking mountain views and a variety of outdoor activities. Explore the mountains on a bike with over a dozen great mountain bike trails, accessible via convenient lift access for guests. Some trails are mixed-use, so keep an eye out for pedestrians. To make your stay easier, the resort provides bike rentals through an online reservation portal.

Aside from biking, Park City boasts a fantastic trail system perfect for summer hikes. With trails of varying difficulty, there's something for everyone. Spend a day hiking through the interconnected trails, starting with the Silver Spur trail and continuing to popular routes like the Spiro and Armstrong Trails.

Tee Off on Park City's Stunning Courses

Whether you've honed your putting skills, packed your driver, or brought along your frisbee, a perfect golf course in Park City is waiting for you! Golfing during a Park City, Utah summer is the best. The weather is usually moderate enough, with a lot of sunny days throughout the season. The Canyons Golf course is an 18-hole par 70 with over 500 feet of elevation change throughout. You can book your tee time up to 30 days in advance, ensuring you get the best time slot.

For a more family-friendly golf experience, Park City also features an 18-hole mini golf course that's perfect for those with small children. Operation days and times depend on the weather, but you must start your round of mini-golf at least 45 minutes before closing time.

If traditional golf isn't your thing, grab your frisbee and head out to the Park City disc golf course instead! The course features 18 holes and original DISCatcher Pro targets. The course is free to play, but you'll need to purchase a gondola ticket to get to the start of it.

Scenic Gondola Rides

One of the most popular attractions in Park City in the summer is the scenic gondola rides. Enjoy 360-degree views of the stunning Tahoe National Forest while you ride gently up the cliff sides. To get out of Park City Mountain Village, take the Payday Express or the Crescent Express. If you're in Canyons Village, you can easily access the Red Pine Gondola, and if you are in Town Bridge, the Town Lift is nearby.

You can also opt for a scenic lift pass for a worry-free solution through the summer. The passes are available by the day or for the entire summer. The hours of operation for the scenic gondola rides vary greatly depending on dates and weather, but ticket sales do end 15 minutes before the close of Adventure Park.

Adventures & Discoveries for Young Explorers

Park City in the summer is perfect for groups and families with kids. The kids' zip and ropes course is a perfect activity to let those little ones get some extra energy out. The course is designed for guests weighing 30 to 100 pounds who can fit into the harness correctly. Hours vary and are weather-dependent, so check their hours before going. Guests must wear closed-toed shoes. Tickets can be purchased at the Park City Village ticket window or online.

For a more laid-back activity that even the youngest visitors can enjoy, stop in and pan for precious gems at the gem panning center in Park City. The area pays homage to Park City's mining roots, with plenty of space to hunt for treasures.

Thrills on Park City's Mountain Coaster and Alpine Slide

Let your inner child go on thrilling rides through stunning wildflower valleys and under the canopies of evergreen groves. The Park City Mountain Coaster and Alpine Slide are two great things to do in Park City in the summer. The alpine slide features over 3,000 feet of track and is considered one of the longest in the world! The Park City mountain coaster takes you on a 25-mph ride filled with exciting loops and curves.

Ready to Spend the Summer in Park City?

You don't need to ski in or ski out to enjoy a sunny summer in Park City. There are plenty of fun and exciting activities year-round at Park City Resort. Whether you're looking for thrilling adventures or a slower-paced itinerary, Park City Resort has everything you need and more. Ready to get started? Visit our website today and start planning the summer vacation you deserve.