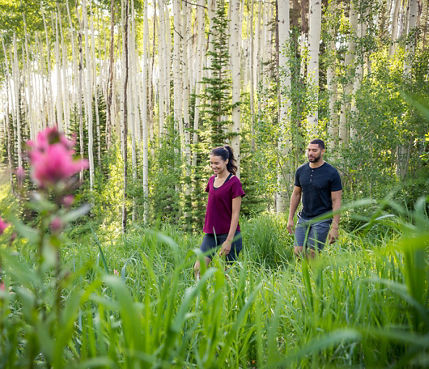 Park City in Utah is the ideal destination for nature enthusiasts and flower spotters, with its vast array of trails lined with wildflowers. From pink lupines to orange paintbrushes to yellow mountain sunflowers, there's so much that the world of horticulture offers — it's time to give these flowers the stage and let them shine their bright petals.

Park City wildflowers bloom anytime between March and September, and their peak, especially in higher-elevation meadows, is between June to August. If you love hiking and flower spotting, here are the four places to see wildflowers in Park City that guarantee a rewarding and multi-sensory experience!

1. Blood Lake Trail

The Blood Lake Trail is located in the Bonanza Flat Conservation Area, approximately 12 miles from Park City Mountain. It's a 2.6 mile out-and-back trail with an elevation gain of about 400 ft making it suitable for hikers of nearly all skill levels. Reaching its trailhead is easy and can be done from the Wasatch front, just below Guardsman Pass.

The trail offers a combination of pine forests, aspen trees, and wildflowers. Blankets of purple paintbrushes, blue lupines, and pink fireweeds along the trail are a sight to behold! The wildflowers are also abundant along the open meadows and seeps, which provide a beautiful view of the surrounding forests and mountains. The trail leads to Blood Lake, a popular destination for hikers and nature lovers alike due to its remote beauty and unique coloration.

It generally takes 45 minutes to drive from Park City Mountain to Blood Lake Trail. However, the driving time can vary based on traffic and specific road conditions.

2. Rob's Trail

The Rob's trail is a 13.7-km-out-and-back trail beginning from Hollow Drive, near the Utah Olympic Park. Completing the trail takes an average of four hours and twenty-three minutes and may be moderately challenging for inexperienced hikers.

The trail winds through beautiful pine trees and aspen groves that provide shade for hikers throughout their adventure. Various wildflowers stud this trail making it more stunning and worth a visit. The vibrant wildflowers form a beautiful carpet of various colors — from delicate blues to fiery reds and sunny yellows. To fully immerse yourself in their beauty, visit Rob's Trail between June and September and watch them bloom and breathe life into this trail.

Hike with your dog — as long as they are leashed. However, there is no running water at Rob's trail, so ensure you carry enough water to sustain you both throughout the hike.

Rob's Trail trailhead is accessible from Quinn's Junction Trailhead parking lot, which is relatively close to Park City Mountain. Being a local's favorite, Rob's trail is prone to heavy traffic, especially during evenings and weekends. Consider planning your weekday hikes in the morning and afternoon to ensure ample hiking space.

3. Armstrong Trail to Dawns Trail Loop

One of the best ways of experiencing Park City is by hitting the Armstrong and Dawns Trail loop. The trail is considered moderately challenging and stretches over 4km. Hiking this trail takes an average of 1 hour and 38 minutes, but it can take longer if you make stop points to admire its serene environment.

During summer, usually between June to August, the Armstrong trailhead is awash with the beautiful colors of delicate Utah wildflowers. These flowers contribute to this trail's rich biodiversity, including the Indian paintbrush, black-eyed Susans, and Columbines. If you are a dedicated flower spotter, remember to bring a camera to capture the captivating mix of wildflower colors that amplify the outdoor exploration of the Armstrong Trail to Dawns Trail loop.

The Armstrong Trailhead is located near the Silver Star Plaza, accessible through Silver Star Drive. Park your vehicle in the Silver Star area of Park City Mountain if you drive here. Still, it is recommended to use public transportation since the parking spaces might be fully occupied — unless you arrive early!

4. Lake Blanche Trail in Big Cottonwood Canyon

The Lake Blanche Trail begins at the lower S-turn of the Big Cottonwood Canyon, located 24km from Park City Mountain. The trail is considered challenging; inexperienced hikers should therefore avoid it. Completing this 11-km-out-and-back trail takes an average of 5 hours, but since camping is permitted, you can take advantage of the various camp spots to rest during your hiking adventure.

Along the Lake Blanche trail, you'll experience some great views of the forests since the trail climbs above the tree line to stunning views across all directions — from the glacier-carved rock outcroppings to the beautiful alpine setting. The wildflowers are just a cherry on top, blooming vibrantly, adorning the trail. The delicate yellow buttercups, daisies, and alpine sunflowers create bright bursts of yellow against the ever-green backdrop, enhancing the hiking experience. If you are at Park City Mountain, here's how to get there;
Head west on Empire Avenue from the resort
Take UT-224 South via the ramp to I-80.
Continue on U-224 until you reach SR-190 or the Big Cottonwood Scenic Byway.
Then drive up the SR-190 until you reach the Mill B South Fork Trailhead, where the Lake Blanche Trail starts.
On busy weekends, the trailhead parking area fills up fast; hence arrive early to book yourself a parking spot. Sorry dog lovers, but you'll have to keep your pets home when visiting the Lake Blanche Trail — since the trail lies within a watershed.


Park City Wildflowers Hiking Etiquette
Observe the Leave No Trace principle — this aids in minimizing the impact of your outdoor activities on the natural environment. The principle ensures nature lovers enjoy nature while leaving it as they found it for the sake of future generations and the delicate ecosystem. Pack out what you pack in, even the small items like tiny pieces of litter — pack out everything as you leave.
Please don't pick the flowers. Resist that urge when hiking, as picking wildflowers can negatively impact the environment.
If you plan on hiking the trails at Park City, we offer vacation rentals and hotels with amenities like pools and more. With us, you can rest easy knowing you have the perfect relaxing place after hiking.
Plan your next trip with Vail Park City Resort today
!