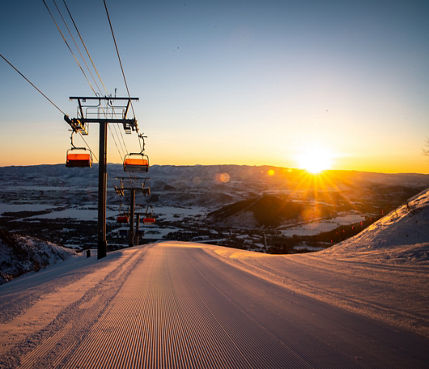 With some of the best snow in the world and a vibrant ski culture, there's no shortage of great winter getaways in Utah. Park City Mountain located just a short distance from Salt Lake City, tops the list as one of Utah's best winter destinations for world class skiing, stunning views, and friendly atmosphere.
Perfect for skiers and snowboarders of all levels, ranked as a top family friendly ski resort and one of the most accessible resorts in North America, Park City Mountain offers expansive skiing terrain, a variety of activities off the slopes and a charming, historic downtown.
From beginner-friendly slopes to deep powder runs, dive in and discover what sets Park City apart as the best winter getaway in Utah. Once finished, you'll be itching to reserve lift tickets for your best winter vacation yet.

One of the Largest Ski Resorts in the U.S.
If you're looking for an epic winter vacation, look west towards Utah to one of prettiest towns in the USA, Park City. This idyllic resort town is home to Park City Mountain, one of the largest ski resorts in the US with a total area of over 7,300 acres of skiable terrain. Spanning two resorts with a highspeed gondola connecting two villages, guests will find the most groomed slopes of any resort in North America, plenty of expert and intermediate terrain, world class terrain parks and high quality lift access to whisk you across the mountains.
With no shortage of terrain for all levels and abilities, hitting the slopes at the one of the largest ski area in the U.S makes a visit to Park City is easily one of the best winter getaways in Utah.
Premier Learning Terrain
Families and first timers come to learn to ski at High Meadow Park, Utah's premier ski and snowboard learning area tucked in the heart of Park City Mountain. High Meadow Park is perfect for ski beginners or first timers looking to take ski lessons from world-class instructors. This unique dedicated learning area features gentle terrain and advanced snowmaking abilities, designed to enhance the experience of new skiers and snowboarders. The park also features three separate Adventure Alley locations that are great for riders looking for an adventure filled groomed runs through natural terrain. You'll also find plenty of other great beginner runs at Park City, making it a great place to learn to ski or ride.
Top Rated Ski Terrain Parks

Consistently rated among the best terrain parks in the world, Park City Mountain's six unique terrain parks accommodate riders of all ages and skill levels. Younger kids or those just learning to ski will be most comfortable at the Little Kings terrain park. As skiers become more advanced, the Pick Axe and Three Kings park are larger and more challenging for intermediate to advanced riders. Along with the terrain parks in Park City, there is also a half and mini-pipe, making Park City's terrain parks an excellent spot for the best adventure winter getaway in Utah.

Fine Dining on Mountaintops

There's no shortage of fine dining across Utah, and food lovers will find a share of some the best culinary experiences right in the heart of Park City. Lookout Cabin is consistently ranked the best place to eat in town, and once you've tried the food there, you'll be raving too. The restaurant has a full-service menu and expansive bar options. Guests can enjoy their meal on the expansive deck, perched atop the mountain and looking down at the Wasatch Range below. Reservations are required, and you must make your reservations well in advance as the restaurant sells out quickly during the busy winter season.

Another excellent dining option with a more family-friendly atmosphere is the Red Tail Grill. Located at the Canyons Village base, the Red Tail Grill serves breakfast, lunch, and dinner daily in a lively environment with simple dishes like burgers and chicken sandwiches. Guests can enjoy craft beer and cocktails on the patio; reservations are not required but are recommended. There is also a $25 table fee for groups of less than 12.

Magical Sleigh-Rides in Park City

If you're looking for a truly unique experience on the best winter getaways in Utah, look no further than the one-of-a-kind sleigh ride and dinner experience at the Snowed Inn Sleigh. Visitors to Park City can take a horse-drawn sleigh ride through the pristine slopes of the city's snow-capped mountains up to a gorgeous historic Inn for an unforgettable dinner. Reservations are recommended due to high interest during the winter months.

World Class Spa Resorts

Unwind and relax at the luxurious RockResorts Spa at Park City Mountain after a day filled with snowy mountain activities. Rated for it's phenomenal experience, this opulent full-service spa offers various customizable options, allowing you the proper treatment. Visitors can indulge in services such as full body or Swedish massages, face and body treatments, or unwind in the spa's luxurious saunas. Discounts and deals are available for large groups, and reservations should be made in advance.
Family Friendly Lodging
Park City Mountain is rated as one of the best ski resorts for families in the US, and has many family friendly lodging options in Park City, Utah. You'll find hotels with ski-in/ski-out access, hotels with on-site amenities such as pools and playgrounds, and hotels and condos with enough room for everyone to stretch out and relax. Stay right in the heart of the action and plan a family vacation with memories to last a lifetime. Check out our vacation packages for lodging deals, packages and savings.
For families travelling with small children, childcare is available for parents to enjoy a day on the mountain or out exploring.

Historic Downtown Park City

Another great place to visit while in Utah is the shops in the quaint and historic downtown district of Park City. This former silver mining town turned Olympic training center features a district of quaint shops and equipment rental vendors to make Park City the best winter getaway in Utah. Visitors can peruse several North Face stores, sporting goods stores like Canyon Mountain and Canyon Kids, or bring back Park City souvenirs from Legacy Logo.