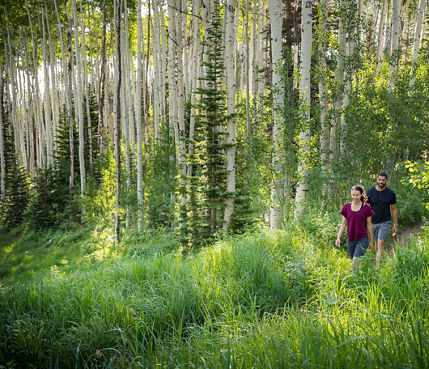 Hiking is one of the most popular summer activities at Park City Mountain Resort. The spectacular mountain playground offers Park City hikes across more than 350 miles of recreational trails, taking you through shady pine forests and aspen groves, along dramatic ridges, across creeks, and into sculpted canyons. There are trail options for all fitness levels, including easy hikes, dog-friendly hikes, and fun Park City family hikes. Plus, some of the best hikes near Park City are on tough, long-distance trails and perfect for experienced adventurers seeking a challenge.

Choose one of the 26 beautiful hiking trails at the resort and enjoy a scenic lift ride as part of the experience. You can ride up and hike down or do the opposite for a more demanding trek. To familiarize yourself with the trails, consult the Park City Mountain Resort trail map. You can create custom loops or expand your options outside the resort for even more Park City hikes.

Remember to prepare for safe high-altitude hiking — bring plenty of water and sun protection and check the weather and trail conditions before setting off on your exciting outdoor expedition.


Popular Park City Hikes

These top recommendations for the best hikes at Park City Mountain tend to be on trails that are well-maintained, accessible, and signposted, with an easy-to-moderate difficulty level. Many trails, including Spiro, Armstrong, and Dawn's, offer spectacular scenery. Access this beautiful trio of trails via the short Silver Spur trail, or take the Silver Star Lift from Park City Mountain Village.
Armstrong is a popular 4-mile, mixed-use trail that limits bikes to uphill travel, helping hikers enjoy a slower pace. The slope is gentle but steady, and the trail is wide and smooth.
3 Candles to Shadow Lake is another steady grade distinguished by open views of the mountain on the newer 3 Candles section of the trail, and breathtaking lake views at the top. Simply start on the 3 Candles trail and take the right fork when you get to Keystone Trail.
Dawn's Trail is an easy, popular hike for visitors, although some sections are narrow and steep. It covers 3.6 miles out and back, with the lower mile designated for hikers only. A nice aspect for those wanting more is that you can combine Armstrong with Dawn's or the upper section of Dawn's and Spiro to create different loop trails.
Easy Hikes in Park City

The mountain landscapes around Park City are breathtaking — quite literally for anyone unused to exertion at high elevations! Fortunately, there are plenty of easy hikes in Park City that are perfect for visitors who want the fun and fulfillment of a hike without too much effort. These shorter, gentler routes are ideal Park City family hikes as well.
Dawn's Trail. At the resort, consider the lower mile of Dawn's Trail and the wide, 1-mile downhill Mojave Trail from the top of Crescent Lift. Both trails are located above Park City Mountain Village.
Nature Trails. From Canyons Village, there's the 0.75-mile Nature Trail loop from Red Pine Lodge and the 1.6-mile, gently sloping Alpine Lake Trail.


Hikes Near Park City Mountain

Outside the resort, you'll find some excellent, easy hikes in Park City:
Gambel Oak Loop. This Park City hike covers 4.1 miles with an elevation gain of 643 feet and takes approximately 2 hours. The Gambel Oak Loop offers views over Old Town Park City, seasonal wildflowers, and ample shade.
McLeod Creek Trail. For a longer-yet-easy Park City hike, consider the 6-mile McLeod Creek Trail. Expect minimal elevation gain on this wide, partially paved out-and-back trail, which passes through woodlands and over bridges and boardwalks.


Park City's Most Challenging Hikes

Check out some of the region's most famous, toughest hikes, for those seeking a more intensive excursion.
Mid Mountain Trail. This 23-mile trail is accessible from Park City Mountain Village. The lengthy, multi-use trail traverses two ski resorts at around 8,000 feet, with a 2,713-foot elevation gain. Allow around 10 hours for an end-to-end trek of the Mid Mountain Trail, or choose a shorter section (via multiple trailhead options) for a more approachable experience. The south section is flatter and easier, while the north section tests the legs with a sustained climb.
Wasatch Crest Trail. Another well-known, long-distance Park City hike is this 18 miles out and back trail over national forest land. Allow a full day for this challenge. The Wasatch Crest Trail follows a ridgeline and features stunning scenery, with views of Big Cottonwood Canyon in one direction and Park City in the other.
Fantasy Ridge, accessible from Canyons Village, is the most difficult trail at the resort. Challenges include more than 2,000 feet of elevation gain as you hike 6.1 miles to the 9,900-foot summit of Desolation Peak, plus a high-adrenaline stretch of knife-edge ridge. Another challenging trail at the resort is Crazy Miner, featuring steep switchbacks through the forest. But it's shady!
Dog-Friendly Hikes in Park City

There are many dog-friendly hikes in Park City and across the region, some with areas where you can let your pet enjoy the off-leash exploration. However, remember to check the regulations for specific trails before hiking with your pet — dogs aren't allowed on all trails and cannot get on any lifts.
Run-a-Muk trail area. For a super-fun day out with your four-legged companion, head to Utah Olympic Park and its Run-a-Muk trail area. This area offers dog-friendly trails that lead to the Olympic ski jumps and bobsled track and a 43-acre off-leash play area at the base of the hill.
Bloods Lake Trail, 2.7 miles one way, welcomes dogs on leashes, as do all the other trails within the Bonanza Flat Conservation Area. The well-maintained, hiking-only trail has rocky, steep sections but flattens as you approach Bloods Lake. While your dog isn't allowed in that lake, you can continue on the Lackawaxen Lake Trail to reach another lake where your pooch can splash and play. The entire span is approximately 7.6 miles, so allow around 4 hours for this dog-friendly hike near Park City.


Waterfall Hikes Near Park City
Donut Falls. One of the few options for a waterfall hike near Park City, and the best among them, Donut Falls is well worth the 40-minute drive from the resort. This is also a great family nature walk, as it's easy and relatively short at 3.5 miles out and back. Hike along the wide trail, following a creek up a small canyon surrounded by pine forest. Donut Falls, a stunning waterfall that plunges into a chasm, is at the trail's end. Some hikers enjoy scrambling up the rock face.


Ready for a Park City Hike?
Hiking is just one of Park City's many fantastic
summer enticements
. If you love heading to the mountains for outdoor adventures, start planning your summer vacation at
Park City Mountain Resort
today.