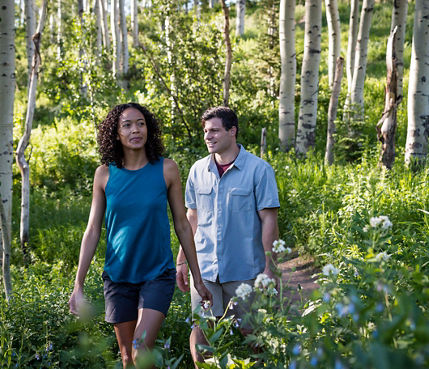 After saying "I do," a honeymoon in Park City, Utah will be the best decision you and your new spouse have made. The beautiful mountain scenery, romantic restaurants in Park City, and endless opportunities for outdoor fun all make it the perfect destination for such a special celebration.

A Park City honeymoon promises all the relaxation you need after your wedding, plus endless fun activities to kick off your life together as newlyweds. This is equally true for all four seasons. Whether you're drawn to Park City as a winter wonderland or a summertime mountain paradise, you'll never run out of Park City honeymoon ideas. Romantic honeymoon hotels, activities, and tables for two are also readily available throughout spring and fall.

Romantic Honeymoon Hotels in Park City

Checking into one of Park City's romantic hotels for your honeymoon will be the memorable beginning of your newly-wedded bliss. The resort's Romantic accommodations are available in various locations, including Canyons Village and Park City Mountain Village.
Consider honeymoon-worthy features like in-room fireplaces, hot tubs, and proximity to your preferred activities.

Here are just a few of the most romantic hotels in Park City that could be perfect for your honeymoon:
Grand Summit Hotel, a Rock Resort

The Grand Summit Hotel is even more luxurious after its $15 million renovation. This ski-in/ski-out hotel is ideal for a honeymoon focusing on a shared love of skiing or snowboarding. The property is in the heart of Park City Canyons Village, close to the ticket office, rental shop, and ski school. The resort boasts a spa, health club, and outdoor pool. Choose king or queen guest rooms, spacious condos with one to three bedrooms, or upgrade to a penthouse.

Silverado Lodge

Silverado Lodge in Canyons Village is luxurious and cozy, with accommodations ranging from guest rooms to three-bedroom suites. Ask about rooms or suites with vaulted ceilings, spacious private decks, and fireplaces — these romantic options make the lodge a perfect Park City honeymoon hotel. The suites feature kitchens and guest rooms have mini-fridges, ideal for chilling a celebratory bottle of bubbly.

Apex Park City Residences at Canyons Village

Modern architecture meets alpine tradition at the chic and charming Apex Park City Residences. The property is at the highest elevation in Canyons Village, so you'll get incredible views from your Park City honeymoon hotel. Two- to three-bedroom residences and townhomes offer ample space for honeymooners, and many units feature fireplaces. Amenities include a year-round heated outdoor pool and hot tub, game room, sauna, and steam rooms.

Sundial Lodge

With its rustic elegance and grand architecture, Sundial Lodge is a top choice among Park City honeymoon hotels. Stand-out features include the rooftop hot tub, heated pool, steam room, and sauna. Guest rooms, studios, and suites with one or two bedrooms are available; the suites have fireplaces and kitchens. The lodge also boasts a prime location in Canyons Village, just steps from the slopes and Red Pine Gondola.
Winter Fun for Two at Park City

Whether you and your new spouse are experienced skiers or snowboarders, first-timers, or anything in between, a winter honeymoon in Park City means hitting the slopes. This is the largest ski resort in the United States, so take advantage of all the world-class snow sports action. Trails range from easy and moderate to expert-only double black diamonds. Ski and snowboard rentals are available, and you can even have your rental equipment delivered to your Park City honeymoon hotel.

If you or your spouse are a first-timer or want to brush up on your skills, book a lesson at the ski and snowboard school. Group lessons are available for beginner, intermediate, and advanced levels, with half-day and full-day options. Or, why not book a private lesson for two? These are popular Park City honeymoon ideas for your itinerary, as you'll spend time together as a couple while learning from a world-class instructor.


Romantic Honeymoon Activities for Summer

Summer is the prime wedding season, so naturally, it's also a popular time for a honeymoon in Park City. Those long hours of daylight, sunny weather, wildflower-filled meadows, and lush greenery all enhance the romantic vibe of this historic mountain town. Embrace the fun of the season by trying some of the following summer-only activities in Park City.
Scenic Lift Rides

After carrying skiers and snowboarders up the slopes all winter, Park City's chair lifts remain an attraction throughout the summer. Scenic lift rides offer access to beautiful alpine trails, but many couples just enjoy the ride with its unrivaled views and fresh mountain air.

Purchase Scenic Ride Day Passes at the Park City Mountain Village ticket windows or online in advance. You might plan to ride the PayDay Express or Crescent Express from Park City Mountain Village, the Town Lift from Town Bridge, or the Red Pine Gondola from Canyons Village.

Hit the Trails

Hiking is always a popular summertime activity during a Park City honeymoon. Combine a scenic lift ride with an adventure on the trails. There are 15 trails from Park City Mountain Village and 11 from Canyons Village, with routes suitable for all fitness levels. Options range from nature trails less than one mile long to the famous 20.2-mile Mid Mountain trail, which traverses the whole resort at 8,000 feet.

Bike Rentals

Bike rental options at Park City include downhill, trail, path bikes, and e-bikes, so you can enjoy a bike ride for two on all kinds of terrain. Ask about bike haul options on the lifts to reach higher-elevation mountain bike trails.

Fun at the Adventure Park

The Adventure Park is a super-fun destination for honeymooners in Park City and a great place to let off some steam after your wedding. A few amusements available in summer are the Alpine Slide, Utah's largest Mountain Coaster, and a Zipline. You might kick off married life with a little friendly competition at disc golf or the 18-hole mini golf course.
Year-Round Must-Do Activities for Honeymooners

Honeymoons in Park City following a spring or fall wedding might encompass attractions from both summer and winter resort schedules. This could mean some late-season skiing or fall foliage hikes, for example. Whether your honeymoon in Park City has a backdrop of snow and ice or wildflower-filled meadows, consider these year-round attractions at the resort.
A Spa Treatment for Two
The RockResorts Spa at the Grand Summit is an ideal venue to add to your Park City honeymoon itinerary. All the spa's menu items, including body treatments, massages, facials, and enhancements, can be customized for couples. There are also treatments designed especially for romantic occasions, such as the side-by-side massage, hot stone massage, and hydration ritual for two.

Dining and Après at Park City

Romantic restaurants in Park City range from lively après hot spots on the mountain to upscale bistro-style eateries. For a sophisticated meal for two, consider dining at The Farm or Legends Bar and Grill. When your honeymoon in Park City is too busy for a sit-down meal, order a pizza from Murdock's Cafe and Pizzeria. Or, relax with a cold drink after a day of action at Umbrella Bar in Canyons Village. Its glass enclosure and huge deck offer 360-degree views.

Park City restaurant hours and openings vary, so check for up-to-date information online.
Ready to Plan Your Park City Honeymoon?

Is it possible that planning your Park City honeymoon is even more enjoyable than planning your wedding? Maybe! Get started today at Park City Mountain.