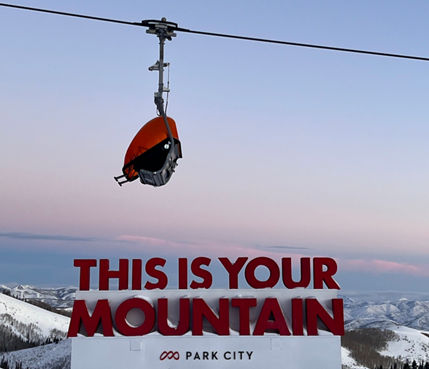 In the era of social media, capturing stunning photos for your Instagram feed is almost as important as experiencing the destination itself. Luckily, your visit to Park City, Utah offers a plethora of photo-worthy spots for visitors to snap the perfect shot. From breathtaking mountain views to charming historic landmarks, there's many unique photo worthy spots in Park City. Here are 10 of the most Instagrammable spots in the area, to add to your must-visit list and share your memories with the world.

1. This is Your Mountain Life-sized Signs

If you want something to get your IG followers excited, grab a photo in front of one of the two giant sized 'This Is Your Mountain' life-sized signs on Park City Mountain. Perfect for group photos, there is plenty of space for you and your friends to gather on the snow bench in front. These two fun spots for photos can be found on either side of the mountain and are a great spot to stop and soak in the views and show the fun you are having.

Located on either side of the mountains, you'll find one at the midpoint of the Orange Bubble Express lift on the Canyons Village side and the other at Silverlode Express on the Mountains Village side.

2. Historic Main Street

When it comes to picturesque locales in Park City, Utah, visiting historic Main Street is definitely high on the list. This pedestrian friendly street is lined with shops, restaurants, and art galleries. With lift access directly to the town's historic Main Street you can access the largest ski resort in North America directly from Main Street.

Since all the buildings here hark back to the silver mining days, there are multiple opportunities to take photos here. The incredible structures and old-time architecture are historic and simply beautiful. Be sure to get at least one photo looking down the snowy street to capture the quaint look of Park City.

3. The Viking Yurt

The Viking Yurt is a unique fine dining experience that provides multiple opportunities that are Instagram worthy in Park City. First, you ride in a sleigh pulled by a snowcat (or in the heated cab) straight up the mountain. You can get shots of the sleigh, distant peaks, and even Park City from above. After dark, it's a truly incredible sight.

At the Viking Yurt, you'll find that the unique look of the exterior is worth a few pics. Inside, the yurt offers an idea of what it's like to live inside an actual yurt, plus the food is exquisite. Grab some photos of you and your friends for plenty of options to share. You may even want to do a few reels here, because the ambiance is a lot of fun and should be shared.

4. Snowed Inn Sleigh Rides

This isn't a place, but it's one of the photo worthy things to do in Park City, Utah that's definitely perfect for Instagram. You'll get multiple opportunities with a gorgeous horse-drawn sleigh. The beautiful horses themselves are a top choice for Instagram worthy in Park City, but you'll also want to grab some selfies sitting in the sleigh. Look for a spot where there's plenty of snow and show off those rosy cheeks or your new scarf!

5. The Welcome Sign

You'll definitely want to get a shot of the welcome sign. "Welcome to Park City" is the perfect photo opportunity to start off your amazing trip series. Everyone will know to expect impressive shots from you, full of beautiful snowfalls and ski hills.

6. The Eagle Statue

The iconic eagle statue is a meeting spot nearly every visitor to Park City knows by sight. It's located in the plaza at Park City and features two bald eagles, one standing and the other in mid-flight. The beautiful statue is definitely a must-see and will make for an incredible Instagram worthy in Park City shot.

7. Historic Mine Buildings

If you take the Historic Mountain Tour, you'll learn a lot of the area's history. Park City wasn't always a ski resort; it was once a silver mining camp, and many original structures are still standing. The ski tour will take you by some of the more popular, well-built buildings from the silver mining era. Not surprisingly, they're the perfect spot to take some Instagram worthy photos. Whether you're snapping landscapes or selfies, you won't regret traveling around the historic Park City Mountain.

8. Jupiter Peak

The highest peak in the area, Jupiter Peak is a stunning rock and snow-covered mountain that looks absolutely amazing in any photo. You can snap Insta shots of it from Park City and enjoy the grandeur of this beautiful peak. Hot tip: Take a photo at sunset when the colors are truly amazing.

9. Lookout Cabin

Interested in getting some great food photos and incredible views at the same time? Lookout Cabin is the perfect place on the mountain for views. The ski-in, ski-out restaurant is open winter season only. Sit outside on the deck, enjoying the sunshine and incredible views of the Wasatch Range with a cocktail in the foreground for one of the hottest pictures on your Instagram. The ski mountain backdrop is perfect for group photos. You can also catch friends riding the chair lift past the restaurant for seriously Instagram worthy shots in Park City.


So Many Fun Photo Spots in Park City, Utah!
If you love taking photos, these spots are all Instagram worthy in Park City. Grab your phone and make sure you have it handy as long as you're on the mountain. The entire area is gorgeous and packed with photographic moments that you'll be dying to capture.
Book your trip today and try these fun activities to do in
Park City, Utah
while checking out these photo worthy spots in Park City.