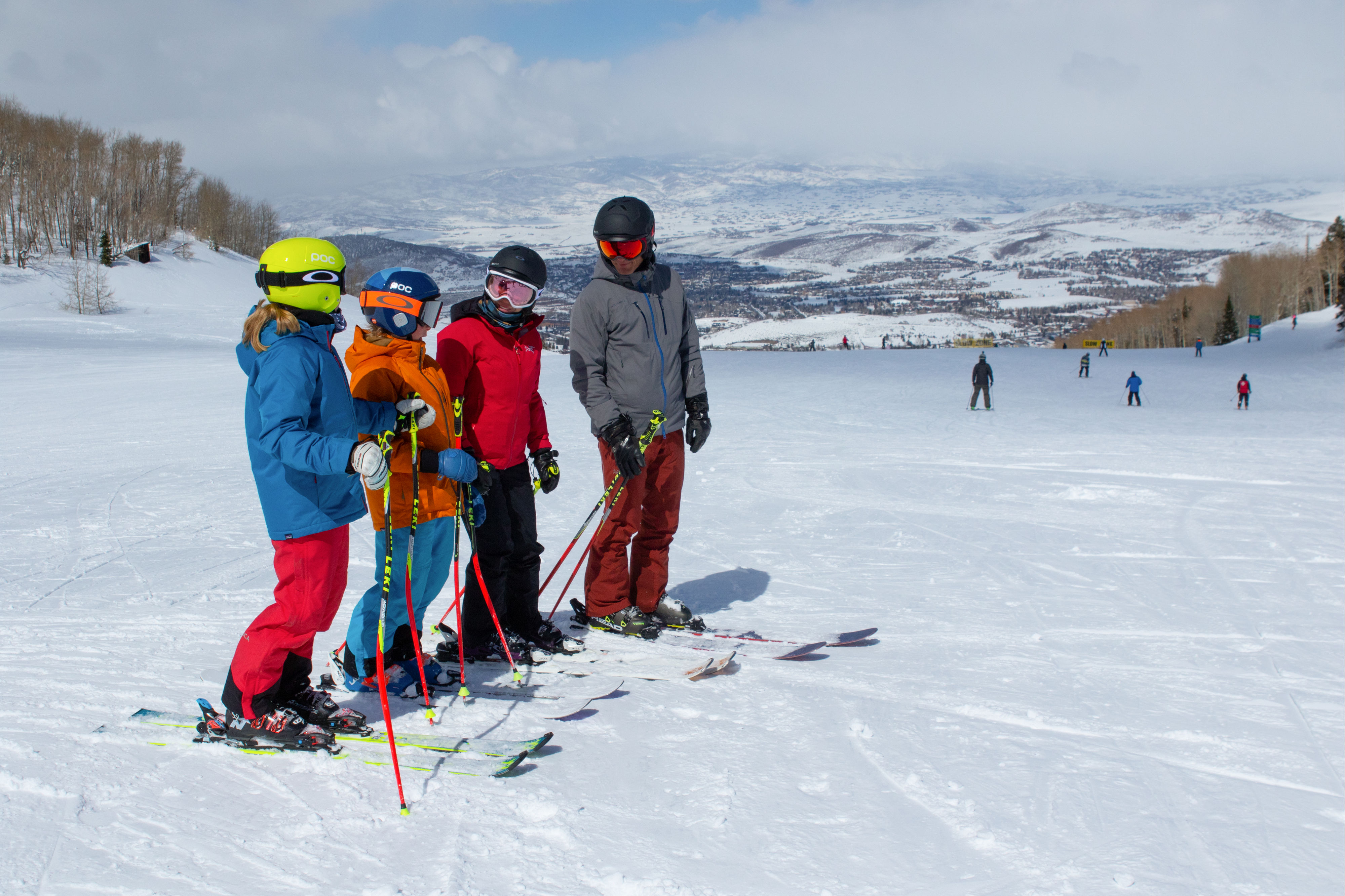 If you're planning a getaway for the entire family, look no further than the globally recognized Park City Mountain in Utah for your family ski vacation. Once a small mining community, Park City is now an international winter vacation destination that draws over three million visitors annually.
Not only are the mountain ski slopes world-class, but the city offers thrills and amenities for families of all ages. Your Utah ski vacation to Park City comes with everything from mountain coasters and ziplines to relaxed shopping. So, is Park City good for families? Yes, Park City is an ideal destination for families, thanks to its convenient location, impressive ski slopes, family-friendly atmosphere, and numerous activities both on and off the slopes. Let's jump in and take a look at the top 10 reasons why Park City makes the
perfect family ski trip destination
.
1. Kid-Friendly Skiing
Park City and its family ski resorts in Utah abound with amenities for kids. Children as young as 3 can train their ski legs at the
Little Kings Terrain Park
, and kids of all ages will enjoy exploring Adventure Alleys, a series of kid friendly trails scattered across the mountain. Each alley is designated with whimsical "snow bug". Does your family need
ski lessons
before hitting the slopes? Park City Mountain has classes available for all ages and skill levels making it prime destination for learning new skills in a fun environment.
2. World-Class Ski Resort Near Salt Lake City
Traveling with kids is one of the most complex parts of your vacation. Fortunately, Park City Mountain is only a 35-minute drive from the Salt Lake City International Airport.
Traveling to and from Park City is easy
. For even more hassle-free travel, ship your luggage and gear straight to Park City Mountain. You can fly bag-free and have everything you need waiting for you at check-in.
3. Dining Options for Even the Pickiest Eaters
Planning a family ski vacation in Utah can seem overwhelming, especially if you're meal-planning for picky eaters and young children. Fortunately,
many options
are available in Park City's downtown and throughout the Park City Mountain. The Red Tail Grill and Murdoch's Cafe and Pizzeria are two of the top dining options that are crowd-pleasing and family-friendly. Most restaurants in the area fill up quickly, especially on the weekends. It's best to make reservations in advance.
4. Lodging for Any Family Size
If you're still wondering if Park City is good for families, look no further than the
lodging options
throughout the town. When you plan a trip to Park City, you will find accommodations ranging from opulent resort suites to spacious condos suitable for entire families. Consider booking one of the private homes near Park City Mountain for your next trip with a large group. These luxurious private homes with four to seven bedrooms offer a one-of-a-kind hideaway that can accommodate even the largest groups.
5. Childcare Options Abound
Taking a family ski vacation in Park City means you won't have to worry if you have brand-new family members. The
Little Adventures Children's Center
provides childcare for children ages 6 months to 6 years old. This state-licensed, year-round child care facility offers extra attention to the little ones with arts and crafts, snow hill playing, and gondola rides up the mountain. Reservations are required to attend, but full- and half-day enrollment options exist.
6. Exciting Shopping Opportunities
Shopping
diversity across the ski-in ski-out downtown area is one of the characteristics that sets Park City apart from other ski resort towns. Canyons Kids is an excellent place for children to get new gear, and Legacy Logo is perfect for all those keepsakes. Most of Park City Mountain's stores are open daily from 9 a.m. to 4 p.m.
7. Dedicated Winter Sports Learning Area
Need another reason why Park City Mountain offers the ideal ski resort experience for families? It has a designated
learning space
for winter sports at High Meadow Park. Children and their families can begin their
skiing or snowboarding lessons
in this roomy setting and expand their winter sports knowledge. Ski school students aren't the only ones who can take advantage of High Meadow Park in Park City; in fact, anyone can enjoy the area's gentle slope and newly installed snowmaking. For more of a challenge, head to one of the three new Adventure Alleys to enjoy a little off-trail experience.
8. Special Youth Passes for Utah School Students
Locals can take advantage of
Park City's special youth
passes for Utah state school students, another reason why Park City is good for families. Skiers looking to learn new skills or improve current ones can purchase the pass for discounts on lessons, lodging, and dining. The Youth Pass also gives pass holders discounted tickets and special refund perks.
9. Youth Ski Programs for All Ages
Park City knows what families want:
youth ski and snowboarding programs
fit for each age and skill level. Starting at age 3, toddlers can learn basic skiing fundamentals and sound safety practices. Note that skiers must be able to stop in a wedge without aid to join the program. Other youth programs are designed for skiers and snowboarders ages 5 to 14. These advanced lessons build upon the basic foundation and teach more complex skills.
10. Parents Get Much-Needed R&R
It's clear that Park City is good for kids. But what about adults? Absolutely. Check out the plentiful amenities geared toward the adults in your group after a long day of looking after the little ones. Guests to Park City can enjoy some much-needed relaxation by booking a luxurious appointment at the
Park City Rock Resorts Spa
. This incredible spa offers massages, including hand and foot, and many facial and body enhancement options. Appointments are by reservation only.
Plan and Book Your Next Family Ski Trip to Park City
It's time to
plan and book
your next perfect family ski vacation in Utah! Park City Mountain, the largest ski resort in the United States, is your one-stop destination for a winter skiing vacation the entire family will enjoy. Bring the family for experiences that will last a lifetime, whether through special youth passes or infant child care at the resort.